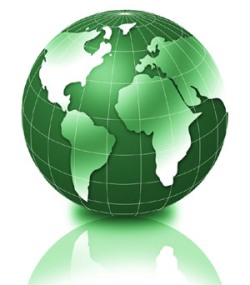 Greentech Lead America: Technology consulting and systems
integration relating to energy, environment and sustainability initiatives in
the US market will reach $2.5 billion in 2015, a 47 percent increase from 2012.
Large firms have spent $1.7 billion in 2012 and the market is forecasted to
grow with a compound annual growth rate of 11 percent over the 2011 to 2015
period.
According to a new report from independent analyst firm
Verdantix, the technology services market will account 4 percent of total US
market size for all energy, environment and sustainability spending of $39.8
billion in 2012.
"Power utilities will account for a whopping 47
percent of US private sector spend on energy and environment technology
services in 2012″ said Stuart Neumann, Verdantix senior manager and author of
the report.
US stimulus funds targeted at smart meters, push by oil
and gas firms to strengthen their environmental management systems and the
ongoing focus on energy and carbon data management and data-driven facilities
energy efficiency are the main growth factors of the market.
"This reflects the growth in smart grid technology
services spend which will reach $503 million in 2012 and the boom in smart
meter projects represents $385 million of spend. The roll out of large solar
parks and utility-scale wind farms is also creating new IT systems
requirements," Neumann added.
The report finds that the spending on technology services
related to six energy management initiatives dominate the market opportunity
representing $1.4 billion of the $1.7 billion total in 2012. Technology
services in the environmental management and water stewardship market segments
will be worth $218 million in 2012.
The market for sustainability technology services
covering climate change, sustainability performance management and low carbon
transport claims just $151 million of corporate IT spending in 2012.
"The size and growth rate of the US market for energy,
environment and sustainability technology services is sufficient to generate
interest from all major technology services firms" The problem is that few IT
services firms are making money in this market," said David Metcalfe, Verdantix
CEO.
"The opportunities are fragmented across eleven different
categories making market entry problematic. And growth rates for supposedly 'hot topics' like water stewardship are just 10 percent per annum over the 2011
to 2015 period. Only suppliers with a strong market position in sectors like
utilities or oil and gas are making a decent profit. New entrants need smarter strategies,"
Metcalfe added.
| | | | | | | | | | | | | | |
| --- | --- | --- | --- | --- | --- | --- | --- | --- | --- | --- | --- | --- | --- |
| Technology/services | | 2011 | | 2012 | | 2013 | | 2014 | | 2015 | | CAGR | |
| Climate change risk management | | $28 | | $30 | | $33 | | $38 | | $44 | | 12% | |
| Sustainability performance management | | $51 | | $55 | | $61 | | $68 | | $78 | | 11% | |
| Low carbon transport (premium) | | $61 | | $66 | | $74 | | $86 | | $100 | | 13% | |
| Water stewardship | | $84 | | $88 | | $96 | | $109 | | $124 | | 10% | |
| Enterprise energy and carbon management | | $73 | | $95 | | $131 | | $164 | | $194 | | 28% | |
| Renewable energy | | $95 | | $103 | | $115 | | $130 | | $152 | | 13% | |
| Environmental compliance | | $118 | | $130 | | $148 | | $172 | | $196 | | 14% | |
| Sustainable data centers (premium) | | $121 | | $134 | | $153 | | $171 | | $191 | | 12% | |
| Facility energy and carbon management | | $115 | | $145 | | $191 | | $234 | | $275 | | 24% | |
| Smart grid | | $348 | | $385 | | $435 | | $506 | | $599 | | 15% | |
| Smart meters | | $598 | | $503 | | $507 | | $540 | | $577 | | -1% | |
| Total | | $1,691 | | $1,736 | | $1,944 | | $2,218 | | $2,530 | | 11% | |
| | | | | | | | | | | | | | |