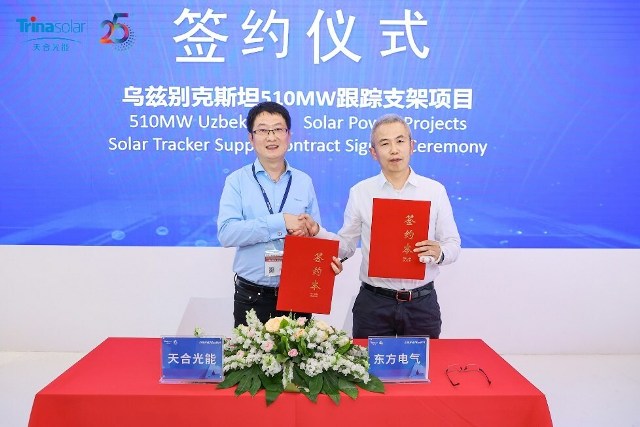 TrinaTracker has recently signed an agreement with Dongfang Electric International Corporation to provide 510MW solar trackers for solar projects in Uzbekistan.
The contract signing ceremony was held on the first day of the 16th International Photovoltaic Power Generation and Smart Energy Conference & Exhibition (SNEC PV Power Expo) held in Shanghai from May 24-26, 2023.
TrinaTracker will supply Vanguard 1P solar trackers to the Jizzakh and Samarkand solar power plants in Uzbekistan. The two projects will generate 1.1 terawatt-hours (TWh) of renewable electricity annually, cutting an annual average of around 110,000 metric tons of CO2 emissions.
This is the second project TrinaTracker has landed as the supplier for solar plants in Uzbekistan in support of the country's solar power development target of 4GW by 2026 and 5GW by 2030.
TrinaTracker previously provided 2618 sets of solar trackers for the 100 MW Nur Navoi Solar Project, the country's first solar power plant, which was inaugurated in August 2021.