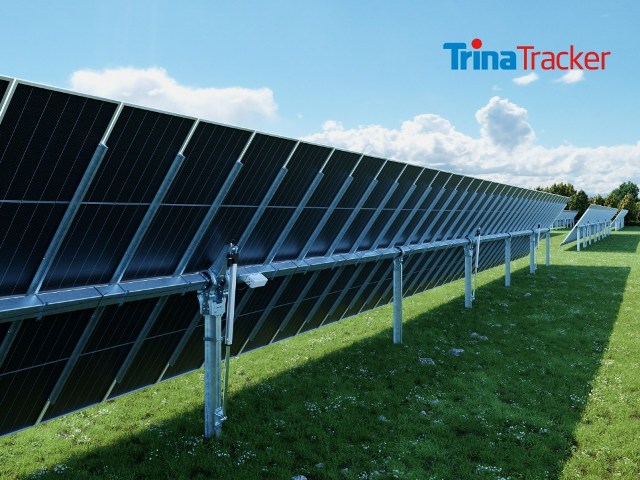 TrinaTracker, a smart solar tracking solutions provider under Trina Solar, has inked a solar tracker supply agreement with Power Construction Corporation of China (POWERCHINA).
The agreement entails the provision of 108MW of smart tracking systems, featuring TrinaTracker's pioneering Vanguard 1P trackers, smart algorithms, and Trina Smart Cloud platforms, to the Tepuy Solar PV Park situated in the province of Antioquia, northwestern Colombia.
The Tepuy Solar PV Park, developed by Medellin Electric Power Company, the largest power generation entity in Colombia, is a significant project. POWERCHINA is spearheading the EPC responsibilities encompassing design, supply, construction, installation, and commissioning of the PV power station. TrinaTracker stands as the exclusive supplier for this monumental endeavor.
TrinaTracker's Vanguard 1P trackers are custom-designed for expansive solar power plants situated on flat terrains. The design significantly reduces material costs and labor hours during project installation by requiring fewer driving systems and controllers per megawatt. Moreover, the product's reduced pile foundations enhance compatibility with cleaning robots, while bi-damper systems mitigate the risk of tracker damage in high wind conditions.
The smart tracking system by TrinaTracker, which integrates tracker structure, algorithm, and platform, comprises essential components such as the tracker control unit, SuperTrack, and Trina Smart Cloud monitoring platform. This innovative system boosts power generation by up to 8 percent compared to conventional solar tracking systems. Additionally, it offers superior monitoring functions during system operation, leading to reduced operational and maintenance costs for clients and minimizing losses in power generation.
Latin America holds immense significance in the solar tracker market, with Colombia, one of the region's largest economies, showcasing substantial potential for photovoltaic power generation. Notably, over 80 percent of ground photovoltaic sites in Latin America utilize solar trackers, surpassing the global average of 45 percent in market penetration, as reported by international consulting firm S&P Global.
TrinaTracker's collaboration in the Tepuy project serves as a pivotal step towards greater growth in the Latin American market. By introducing cutting-edge smart solar tracking technology to the region and offering comprehensive system design, delivery, and after-sales service, TrinaTracker remains dedicated to propelling the development of photovoltaic projects in Latin America, augmenting the region's renewable energy capabilities.