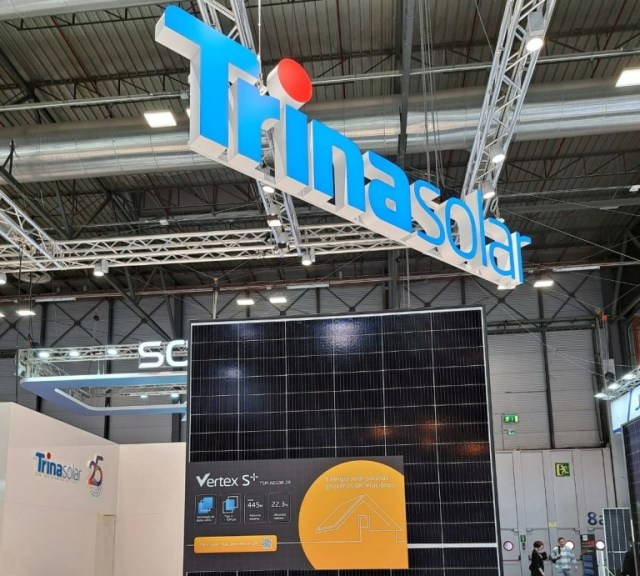 Trina Solar, a global leader in the solar industry, has reported remarkable achievements in its financial report for the first half of 2023.
According to the report published on August 29, the company's module shipments totaled a staggering 27 gigawatts (GW) in the first half of the year, solidifying its position as the second-largest module supplier globally. Notably, Trina Solar's accumulated module shipments have now exceeded 150 GW, with 210mm module shipments surpassing an impressive 75 GW.
The company's success extends beyond module shipments, as deliveries of trackers and fixed tilt racks reached 3.3 GW. Additionally, shipments of Trina Storage tripled compared to the corresponding period last year, reflecting the increasing demand for energy storage solutions in the renewable energy sector.
Trina Solar reported a substantial revenue of $7.13 billion for the first six months of the year, derived from its PV products, PV systems, and smart energy offerings.
TrendForce, an independent new energy research agency, noted that worldwide 210mm module shipments had exceeded 150 GW by the end of June. Trina Solar emerged as the leader in this segment, maintaining its position as an industry leader with its 210mm product technology platform and n-type TOPCon technology. In August, the company proudly announced the commencement of mass production of the Vertex N 700W+ series modules, further reinforcing its commitment to cutting-edge technology.
Looking ahead, Trina Solar has ambitious plans for expansion. By the end of the year, the company's n-type wafer capacity is projected to reach 50 GW, module capacity 95 GW, and cell production capacity 75 GW, including 40 GW of n-type cells. These facilities will be equipped with n-type i-TOPCon Advanced technology. Trina Solar's integrated manufacturing plants outside China, boasting 6.5 GW of wafer, cell, and module capacity, will ensure seamless delivery to meet the growing international demand.
In May, Trina Solar introduced its new-generation integrated PV and storage solution globally, aiming to provide more convenience and value to customers. This comprehensive solution combines modules, trackers, and energy storage, offering integration, safety, and reliability in end-users' systems.
The Trina Storage Elementa, featuring the company's latest in-house battery technology and innovative design, delivers valuable and secure energy storage products for project development. This helps achieve stable electricity operation on the power generation side, grid side, and user side.
Trina Solar's dedication to advanced technology, reliable products, and sound financial performance has earned it recognition from international institutions. The company maintains its Tier 1 PV module manufacturer status in the BloombergNEF 3Q 2023 Global PV Market Outlook. It has achieved a perfect score of 100 percent in the BNEF Bankability Survey for seven consecutive years and received AAA rankings five times in a row in PV Tech's PV ModuleTech Bankability report. RETC has consistently recognized Trina as an Overall High Achiever for four years, and PVEL has ranked it a Top Performer for nine years in a row.
Trina Solar's continued success demonstrates its commitment to driving innovation and sustainability in the global solar energy industry.