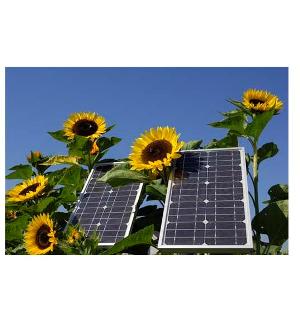 By Greentech Lead Team: Globally, total installed PV
capacity touched over 67.4 GW in 2011. After hydro and wind power, PV is now
the third most important renewable energy in terms of globally installed
capacity.
Germany is still leading the table in terms of cumulative
PV capacity. (Please see the chart at the end of the article)
The growth rate of PV during 2011 reached almost 70
percent. The new grid-connected PV capacities rose to 27.7 GW in 2011 from 16.6
GW in 2010. Almost 21 GW of this growth could be counted in Europe. The number
of markets reaching more than 1 GW of additional capacity during 2011 rose from
3 to 6.
In 2010 the top 3 markets were Germany, Italy and the
Czech Republic; in 2011 Italy leads the ranks and Germany, China, the USA, France
and Japan follow, each with over 1 GW of new capacity, according to European
Photovoltaic Industry Association (EPIA).
The European share in the global PV arena is more than 75
percent of all new capacity in 2011. The two biggest markets, Italy and
Germany, account for nearly 60 percent of global market growth in 2011.

Top 15 Solar Energy markets based on cumulative
installation in 2011

Country

Total till 2011

Installation in 2011

Germany

24,700

7,500

Italy

12,500

9,000

Japan

4,700

1,100

U.S

4,200

1,600

Spain

4,200

400

China

2,900

2,000

France

2,500

1,500

Belgium

1,500

550

Australia

1,200

700

U.K

750

700

Greece

550

350

Slovakia

500

350

Canada

500

300

India

450

300

Ukraine

140

140
Source: European Photovoltaic Industry Association (EPIA)