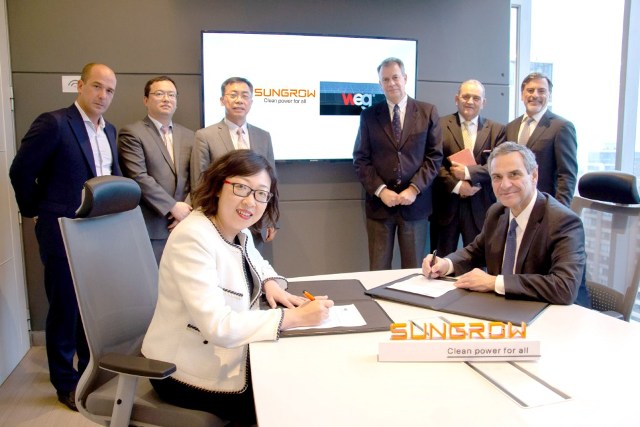 Sungrow, a global leader in inverters and energy storage systems, has secured a contract with the Investment Fund WEG-4 to provide a 60MW/132MWh liquid-cooled energy storage system (ESS) solution, known as PowerTitan, to Chile.
The project will be situated within the 72.8MW Maria Elena Solar Park in Antofagasta, Chile, enhancing the stability and flexibility of the Chilean National Electric System and furthering local carbon-neutral aspirations.
The Maria Elena Solar Park, operational since 2015, will see an integration of energy storage for efficient energy shifting, enabling the storage of renewable energy generated during the day to be released into the grid during nighttime hours. This move is expected to improve the overall efficiency of the solar park and contribute to grid stability.
Sungrow's liquid-cooled ESS PowerTitan will play a vital role in this initiative. Leveraging Sungrow's expertise in power electronics, electrochemistry, and power grid support technologies, PowerTitan streamlines capital and operational expenses through its pre-assembled and easily installable design.
Notably, it provides an efficient cell working environment, significantly reducing the capacity loss rate. Additionally, the DC-DC controller of the PowerTitan optimizes battery rack charging and discharging, enhancing the overall system performance. These features have earned PowerTitan the distinction of being the world's first iF Design Award winner in the utility-scale energy storage system category.
Eduardo Escaffi, a partner from WEG-4 and the owner of Maria Elena Solar Park, emphasized the commitment to invest in environment-friendly assets through the Maria Elena Energy Storage project. The selection of Sungrow as the dedicated ESS provider was based on their proven track record in the energy storage market and the competitive features of their products and services, ensuring optimal asset performance in the long run. WEG-4, a public fund managed by WEG AGF, a prestigious Chilean asset manager established in 2015, oversees the project.
Ada Li, Vice President of Sungrow Americas, highlighted the critical role of energy storage in decarbonizing the Chilean energy system. She expressed Sungrow's enthusiasm to assist WEG-4 in driving the country's energy transition and creating a cleaner and better future through cutting-edge solutions.
Chile's ambitious climate targets, aiming for 70 percent of electricity from renewable sources by 2030, emphasize the growing significance of solar-plus-storage solutions in ensuring power grid reliability while aligning with long-term sustainability goals.