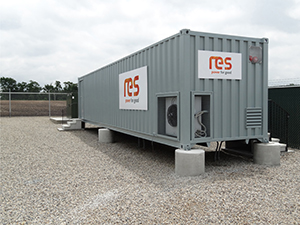 RES, the world's largest independent renewable energy company, is the fastest growing solar O&M provider in the UK, according to Wood Mackenzie.
RES has more than doubled its solar O&M portfolio in the past year to over 400MW, the report, Global Solar PV O&M Service Provider Dynamics, shows.
RES recently announced two new agreements with NextEnergy Captial to provide solar O&M services for Hawkers, an 11.9 MW solar site located in Somerset and 8.2MW Ballygarvey in Northern Ireland. Last year RES opened a new O&M site in Exeter. The new 2000 sq ft facility enables spare parts management for all RES' clients as well as office facilities for the team locally.
Simon Deacon, Operations and Maintenance Director at RES, said: "We've experienced exceptional growth in the past year and we're increasing the headcount of our team to match this demand. Our O&M approach is all about caring for the assets we look after."
RES is active in onshore and offshore wind, solar, energy storage, transmission and distribution. RES operates in ten countries across the world and in its 39-year history has delivered more than 21 GW of renewable energy projects.