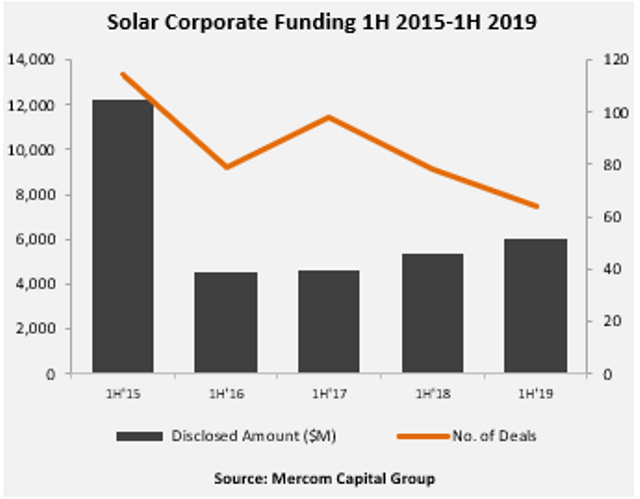 The global solar sector has received corporate funding — including venture capital funding, public market, and debt financing — of $6 billion (+11 percent) in the first half of 2019, said Mercom Capital Group, a global clean energy communications and consulting firm.
The report said corporate funding increased in Q2 2019 with $3.3 billion in 29 deals compared to $2.7 billion in 35 deals in Q1 2019. Corporate funding in Q2 2019 rose 12 percent compared to $2.9 billion in Q2 2018.
Global VC funding in solar rose 50 percent to $799 million in the first half of 2019.
Top VC/PE deals in H1 2019 included: $300 million by Renew Power, $144 million by Avaada Energy, $65 million by Yellow Door Energy, $50 million by Spruce Finance, $41 million by Oxford Photovoltaics, $39 million by CleanMax Solar, and $31 million by BBOXX. 62 VC investors participated in funding in 1H 2019.
Solar public market financing in H1 2019 dropped 20 percent with $993 million in eight deals compared to $1.2 billion in 12 deals.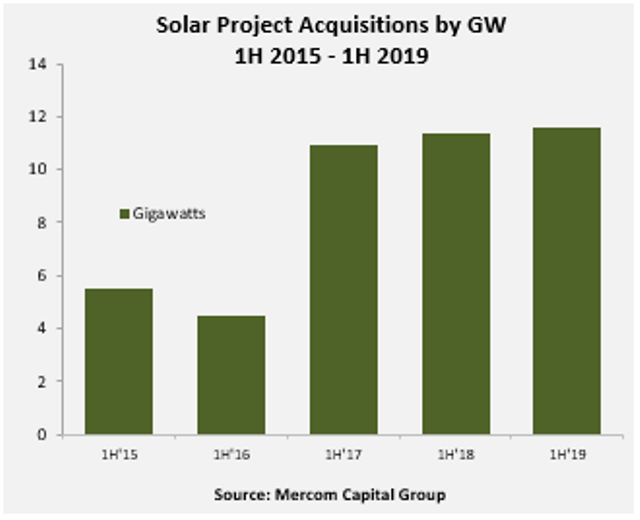 Announced debt financing activity in H1 2019 of $4.2 billion in 27 deals was 16 percent higher compared to H1 2018 with $3.6 billion in 32 deals. There were four solar securitization deals in H1 2019.
There were 37 solar M&A transactions in H1 2019 compared to 46 transactions in H1 2018.
There were 11.6 GW of solar projects acquired in H1 2019. Investment firms accounted for 6.8 GW or 58 percent of project acquisitions.