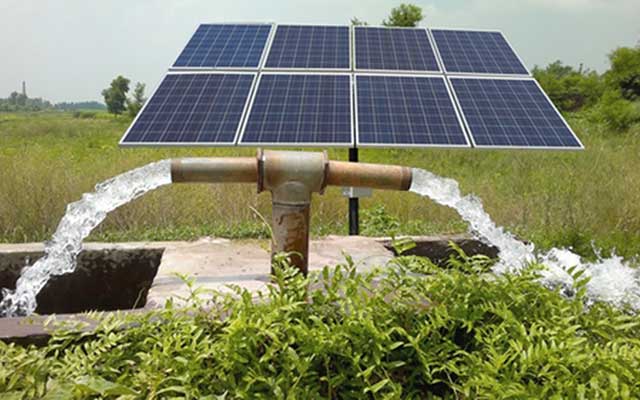 Government initiatives, coupled with reduction in cost, will drive India's solar water pumping system market, says the renew research from 6Wresearch.
According to 6Wresearch, India Solar Water Pumping System Market is projected to grow at a CAGR of 18.7 percent during FY 2017-22.
Currently, 26 million agricultural pumps are installed in India of which nearly 7 million pumps are diesel based and remaining are grid connected. However, due to unreliable grid supply and increasing diesel prices, solar water pumping system offers immense opportunities to replace conventional pumps.
At present, solar water pumping system market in India is subsidy driven, where non-subsidized pumps accounts for marginal share in the market. The Ministry of New and Renewable Energy (MNRE) is implementing solar pumping program through States, NABARD & other Government departments.
MNRE is providing 30 percent capital subsidy for setting up of solar water pumping systems. In addition to the subsidy provided by MNRE, states provide subsidy assistance in the range from 40 percent to 60 percent to implement solar agriculture pump program.
High capital cost is the major hurdle in the growth of solar water pumping system market. Regardless of subsidies provided by the government, solar pumps are still unaffordable for small farmers due to their high upfront cost in comparison to diesel and electric pumps.
However, the market is anticipated to gain momentum in coming years driven by reduction in cost of solar pumping system with innovations in product development and growing awareness about solar pumps, the research said.
According to 6Wresearch, medium power solar water pumps has captured major share of the market as these meet the current power requirement for irrigation application, where 5HP pumps are in high demand.
In 2015, AC driven pumps have captured majority of market due to strong after sales service network and low cost in comparison to DC pumps. However, DC pumps are gaining grounds in the market, especially in low HP segment due to their technological superiority and higher efficiency over AC pumps.
Some of the major companies in India Solar Water Pumping System market include- Jain Irrigation, Shakti Pumps, TATA Power Solar, Claro Energy, Waaree Energies and Kirloskar Brothers Limited.
editor@greentechlead.com