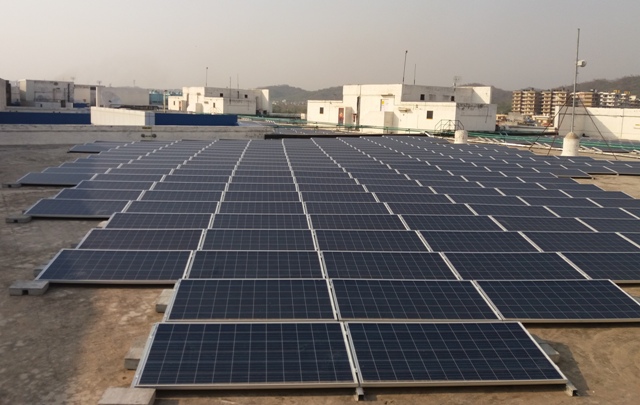 Ministry of New and Renewable Energy (MNRE) is implementing Grid Connected Rooftop Solar (RTS) Power Program in India.
To accelerate the deployment of rooftop solar power in the country, the MNRE ministry prepared a concept note to bring DisComs to the forefront in implementation of RTS by providing them financial support which will be linked to their performance in facilitating the deployment of RTS.
The last date for submitting your recommendations is December 31, 2017.
Rooftop solar (RTS) plants utilize idle rooftop space for solar generation. Typically 1 kWp RTS plant requires about 10 sq. m area. Such power can be used, either for captive consumption of the premises or can be fed into the grid and be adjusted in the electricity bill.
Net metering regulations notified by State Electricity Regulatory Commissions (SERCs) provide a legal framework for such adjustment. RTS plants help DisComs by eliminating transmission and distribution losses as power consumption and generation are co-located. These are useful in tackling day time peak loads as solar generation profile matches such peak loads. India has set the target of installing 40,000 MWp of RTS power by the year 2022.

Government in 2015 approved an increase in the central financial assistance (CFA) from Rs 600 crore to Rs 5,000 crore for implementation of Grid Connected Rooftop and Small Solar Power Plants Program up to the financial year 2019- 20. The CFA being provided is up to 30 percent of benchmark cost/tender cost (whichever is lower) for general category states/UTs and up to 70  percent of benchmark cost/tender cost (whichever is lower) for special category states/UTs, i.e. North Eastern States including Sikkim, Uttarakhand, Himachal Pradesh, Jammu & Kashmir, Lakshadweep, Andaman & Nicobar Islands. Only residential, institutional and social sectors are eligible for CFA under the program and no CFA for commercial & industrial establishments.
The program was expected to support installation of 4,200 MW RTS plants in the country by year 2019-20, of which 2,100 MW through CFA and balance 2,100 MW without CFA. So far, 2047 MWp capacity RTS plants have been sanctioned under the Program and about 845 MWp aggregate capacity plants has been installed in the country. RTS projects are being implemented by State Nodal Agencies (SNA's), Solar Energy Corporation of India (SECI), Public Sector Undertakings (PSUs) and other Government Agencies (GAs).
Though the Ministry sanctioned CFA for aggregate project capacity of 2363 MWp to different implementing agencies, including 316 MW under NCEF, so far 225 MWp has been commissioned in the subsidized sector (out of overall commissioned capacity of 845 MWp).
India Government proposes to bring DisComs to the forefront in RTS implementation by providing them performance based financial support to accelerate deployment of RTS plants within their distribution area and to make DisComs the sole implementing agency for implementation of rooftop solar scheme of MNRE in next phase.
CFA will be provided only for installation of RTS plants in residential sectors. The residential users may install the RTS plant of capacity as per their requirement and the respective SERC regulation, however, the CFA will be limited up to 5 kWp capacity of RTS plant.
Action Plan
Subsidy requirement for residential sector
It is essential to retain capital subsidy for the residential beneficiaries as adoption of solar for this category does not appear to be lucrative and thus is not an obvious choice. The beneficiaries in this sector enjoy benefit of subsidized electricity rates and would not be inclined to adopt solar until some capital subsidy mechanism is in place. Hence, subsidy has to be retained for this sector upto a maximum capacity of 5 KWp as most of the residential consumers fall under this category.
No subsidy to other sectors
CFA will not be available for other categories i.e. residential (beyond 5 kWp), institutional, social, government, commercial and industrial sectors as the beneficiaries in these sectors are high tariff paying consumers and adoption of solar would be economically beneficial for them.
The tariff for these category of consumer is usually greater than Rs. 5 per unit and in some cases (industrial, commercial, institutional and large Govt.) even up to Rs. 10 per unit. The power generated through RTS plant would result in significant reduction of the electricity bill paid by them to the DisCom, hence making it an economically viable solution. Only enabling ecosystem is required to be created for such customers.
Since DISCOMs are likely to incur additional expenditure in becoming the main implementation agency, in terms of capacity building, creating awareness, etc., it is proposed to compensate them by providing performance linked incentives.
The incentives may be provided for each MWp capacity of solar rooftop, added by them in their distribution network. These incentives will be provided to enable DisComs to create an enabling ecosystem for expeditious implementation of RTS projects in their area.
The tasks taken by DisCom shall include but not be limited to providing dedicated manpower for RTS implementation, rooftop assessment, bid process management, technical studies, upgradation in ERP system/components, providing time bound services to RTS consumers, inspection and monitoring of RTS plants, online database management of commissioned capacity, consumer awareness and publicity, ensuring availability of net-meters, empanelled vendors along with rates, providing grid connectivity etc.
The DisComs will submit the cumulative capacity of grid connected RTS plants (in MWp) installed in their jurisdictional area as on 31st March 2018. This will be taken as the installed base capacity for the first year of participating DisComs. The incentives will be given on incremental RTS capacity installed by the DisComs in their distribution network from the installed base capacity.