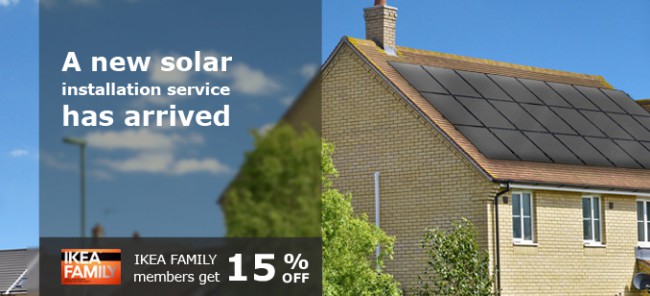 IKEA has entered into a partnership with Hanergy to expand the pilot sales of residential thin-film solar system solution to Switzerland and Netherlands after establishing in UK market.
Hanergy's residential thin-film solar system will be available in the Netherlands in October and in Switzerland in mid-December.
A subsidiary of Hanergy will be responsible for the sales, and installation of the whole solar system solution.
Hanergy's thin film solar panels come in an all-black appearance, performing better even in low-light and cloudy conditions and utilizing less energy to produce solar power.
LINKED ACCIONA to supply 165 MW for IKEA's largest wind energy project
Using Hanergy home monitoring system consumers can monitor their system's electricity generation anytime, even by integrating with a smartphone.
The initial sales offer also includes a 25 years performance guarantee on solar panels with a warranty of minimum 80 percent of rated capacity after 25 years.
In April 2014, the Swiss government introduced financial incentives to promote solar panel installation.
With a one-off payment scheme known as Einmalvergütung, customers can subtract a major part of the project costs of solar systems from their taxable income.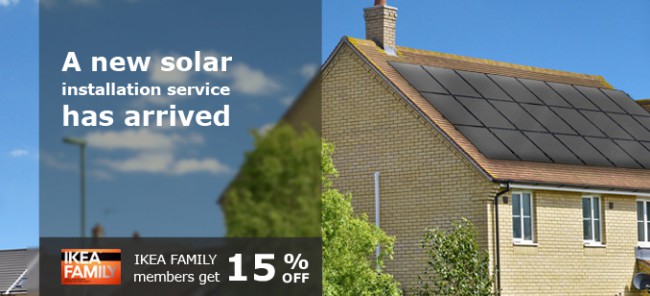 According to IKEA, for an average 4 KW solar system that will cost around CHF 12400 ($12,607), a customer will receive a one-off payment of CHF 4800 from the Swiss Einmalvergütung scheme.
On an average Swiss home, solar panel system will generate CHF 18000 ($18,304) in earnings on average over 25 years.
The partnership between IKEA and Hanergy started in UK in 2013, and over 1800 solar panels have now been sold there.
IKEA's 11 stores in mainland China have been equipped with Hanergy's thin-film power system, which will be able to satisfy their power needs by the end of 2014.
Hanergy Group is also responsible for operating the roof-top power stations of IKEA and handles energy management together with IKEA.
READ ALSO IKEA to develop largest solar array in Michigan
IKEA has further plans to extend the sales to 5 more countries in the near future.
After conquering US market, Hanergy is continually expanding in Europe. It recently acquired Alta Devices in California-based manufacturer of thin-film solar cells.
Hanergy is a major renewable energy generator in China in sectors including hydropower, solar power, and wind power.
Switzerland's first nuclear plant is scheduled to close in 2019, shifting focus to growth in solar and other renewables.
Sabeena Wahid
editor@greentechlead.com