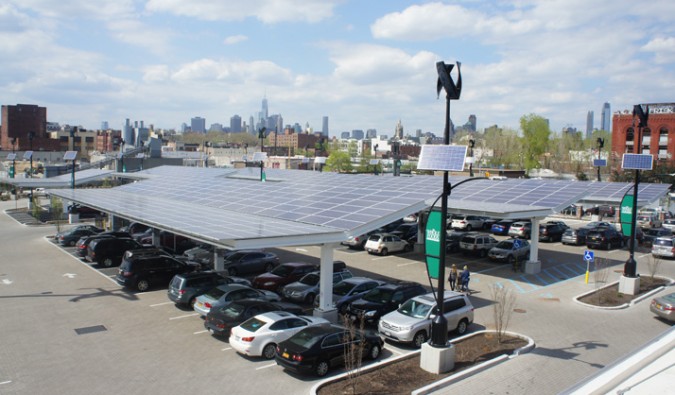 Solaire Generation has won Intersolar North America 2014 award for its canopy installation at Whole Foods Market Solar Carport.
The company won the award in the Best Project category.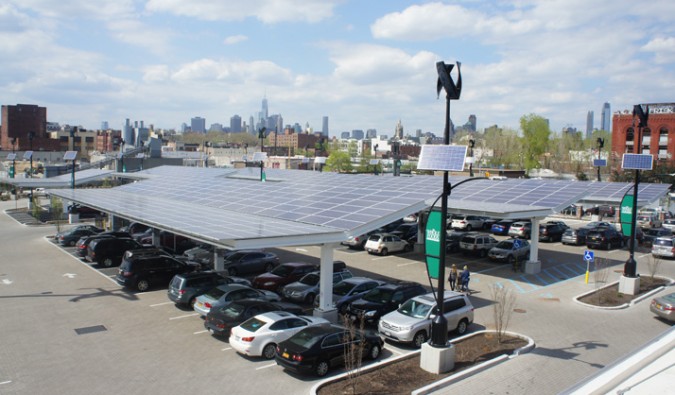 The 325 KV project consists of six solar parking canopies from Solaire Generation. They are installed at the new, sustainable grocery store, owned by Whole Foods Market in Brooklyn, New York. The solar system is developed and financed by SunEdison.
The store is a combination of initiatives in energy efficiency, sustainability and resiliency, according to company officials. It consists of off-grid, self-generated LED parking lighting, self-generating car charging stations that operate on wind and solar power, and a combined heat and power (CHP) system.
The rooftop also hosts 20,000 square foot greenhouse, built and operated by Gotham Greens.
This is the largest solar carport in New York and generates 20 percent of the power needed for the store.
The solar carport also features an integrated storm water management system that collects storm water and feeds into a 30,000-gallon tank beneath the parking lots. The water is filtered and re-used for non-potable purposes in the building. The storm water management also reduces storm runoff.
In addition, the solar canopies' patented dual-incline design provides protection from sun and rain for shoppers.
Laurence Mackler, CEO, Solaire Generation, stated, "As a NYC-based solar company, we have completed the first hometown installation and became a part of an energy-efficient grocery store. The project shows that solar can be deployed within retail shop environment and improve the customer experience."
(Greentech Leaders is a new series that features successful projects, technologies and persons in the renewable energy and green technology markets across the world. They are selected based on the recent awards/recognitions they procure from the industry)
editor@greentechlead.com