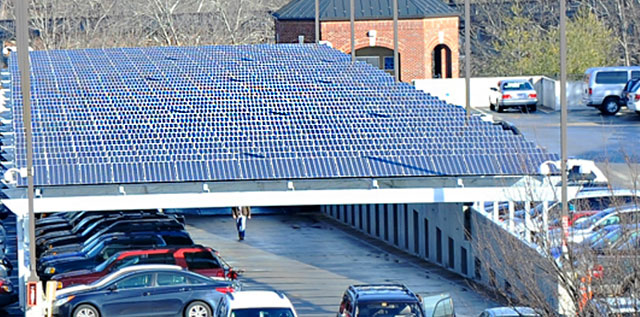 Dominion Virginia Power (Dominion) is to develop the largest solar installation under its Solar Partnership Program in Virginia in partnership with Philip Morris USA (PM USA), a division of the Altria Group.
Standard Solar, a company handling full-service development, construction, integration, financing and installation of solar electric systems, will be the engineering, procurement and construction partner in the project. Most work on the project will be performed by local subcontractors, a press statement said.
Ken Barker, vice president of Technical Solutions at Dominion said: "This initiative is another step toward fulfilling Dominion's commitment to increase our solar generation portfolio in the Commonwealth. In Philip Morris, we have a partner that shares our commitment to clean, sustainable energy."
At present, Dominion is installing about 8,000 ground-mounted solar panels at the PM USA Park 500 facility on Bermuda Hundred Road in Chesterfield County. When completed, the 2,450 kW solar array will generate enough electricity under optimum conditions to power 500 homes.
Greg Ray, senior vice presicent for smokeable manufacturing of PM USA said "PM USA understands the effect that nature may have on our business, which is why we continue our efforts to reduce environmental impacts at our manufacturing facilities."
Dominion has already completed installations at Canon Industrial Resource Technologies facility in Gloucester, Old Dominion University in Norfolk, and Virginia Union University and Capital One in Richmond. These projects and those under construction amount to 4.8 megawatts of solar power generation.
Under its Solar Partnership Program Dominion leases rooftop or ground space at commercial, industrial or public facilities for the installation of solar panels. The energy generated by these panels is delivered to the power grid. Dominion is authorized to construct and operate up to 30 megawatts of company-owned solar facilities, which is adequate to power up to 7,500 homes.
In other solar initiatives, Dominion recently announced 400 megawatts of large-scale solar to be produced in the Commonwealth by 2020. The first facility under the proposal is pending SCC approval and is to be built in Fauquier County, Virginia. It is to generate up to 20 megawatts. Dominion now has 744 megawatts of solar generating capacity in development, under construction, or in operation across seven states in the US.
Ajith Kumar S
editor@greentechlead.com