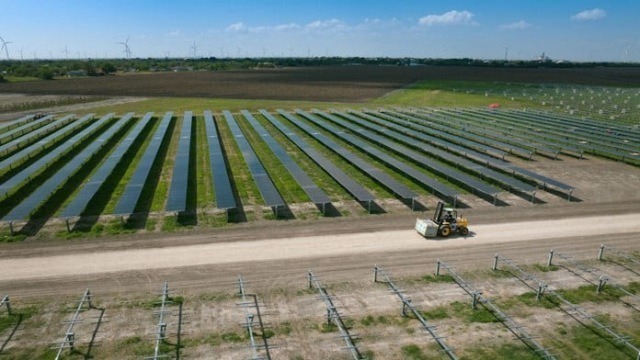 BP, a global energy company, has initiated construction on the Peacock Solar project, a 187MWdc solar energy installation located in San Patricio County, Texas. This initiative signifies BP's commitment to furthering the transition to lower carbon energy on a global scale.
The Peacock Solar project is strategically situated just 10 miles north of Corpus Christi, facilitating the provision of sustainable energy to the surrounding region. Under a long-term power purchase agreement, all electricity generated by the Peacock Solar project will be sold to Gulf Coast Growth Ventures (GCGV), a joint venture between ExxonMobil and SABIC. GCGV is known for producing materials essential in the manufacturing of various products such as clothes, food containers, packaging, agricultural film, and construction materials.
Peacock Solar is positioned near the GCGV complex and is poised to directly power the facility, producing enough renewable energy annually to sustain approximately 34,000 homes once fully operational, BP said.
During the construction phase, the project is expected to generate approximately 300 jobs and contribute over $25 million in tax revenue within the first 25 years of the project's life, benefiting the local economy and communities.
Dave Lawler, Chairman and President of bp America, expressed, "Securing this agreement and kicking off construction of Peacock helps support the transition to lower carbon energy, while benefiting local communities and the economy."
Paul Fritsch, President at GCGV, emphasized their commitment to environmental stewardship: "We want to be good stewards of our environment. Once online, the solar-generated electricity will be used to partially power our plant and help reduce emissions in support of a net-zero future."
Lightsource bp, a global solar leader and bp's 50:50 joint-venture partner, is actively managing the development and construction of the Peacock Solar project on behalf of bp. PCL Construction, the primary engineering, procurement, and construction contractor for the project, will install ultra-low carbon solar panels and trackers from US-based manufacturers First Solar and GameChange Solar, respectively.
Peacock Solar will not only bolster renewable energy but also engage in sustainable practices including planting native vegetation, fostering biodiversity, and implementing agrivoltaics to benefit the local rural economy.
Peacock Solar is a vital component of BP's renewables & power transition growth engine. It aligns with BP's ambitious goal of investing in and constructing 50 gigawatts (GW) of renewable energy capacity by 2030. Texas, ranking second in the nation for solar power, is set to experience significant growth in solar capacity. Projects like Peacock Solar contribute to diversifying the state's energy-generation mix, thereby enhancing energy security and reliability.