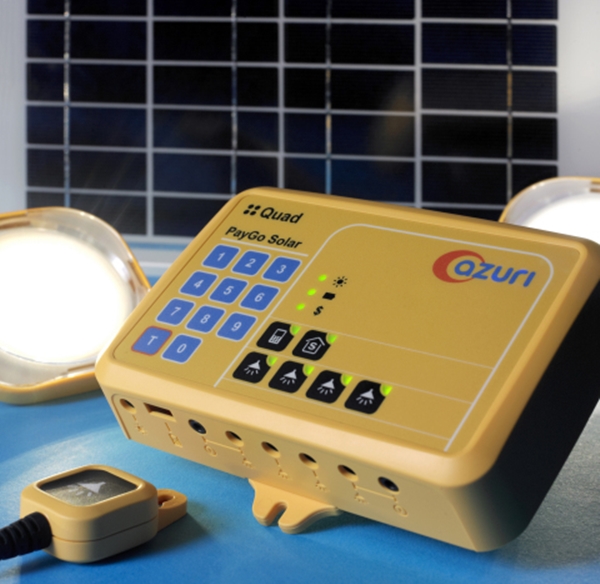 Azuri Technologies has introduced fully digital Quad solar home system from its PayGo solar series for African off-grid rural markets.
The home system features HomeSmart adaptive control technology for optimized output, depending on the energy usage patterns of the customer.
The Quad product with its full digital switching allows all outputs to be controlled from the central Azuri home unit.
The product features a 10 watt solar panel and Lithium Iron Phosphate batteries, with European LED technology.
This is efficient enough to light up a rural household for 8 hours per night and power a USB port for phone mobile charging.
The rural solar home systems are for homes with no access to grid electricity and depend on solar power stored in batteries.
Rural customers show a wide variety of usage patterns and the quantity of available sunlight also varies depending on seasons.
The HomeSmart technology, which requires no user intervention recognizes the customer's power usage patterns and optimizes light brightness, battery charging and load conditions to ensure the system delivers the best possible match to the customer's daily requirement for a given level of available sunlight.
For a customer who uses the system in the morning as well as in the evening, the system will automatically dim the lights in the evening when there is less sunshine, ensuring that there is still power available for the morning.
In addition, by purchasing a top-up credit the Quad system gets unlocked, providing new level of quality to the rural off-grid market at a reduced cost.
Quad offers a level of system automation that is rarely found in lighting systems in the rural Africa, stated company sources.
Recently, Azuri introduced a new generation of LED lamps based on the technology of Quad solar home system.
Available in two variants, standard (60 lumen minimum) and high brightness (120 lumen minimum) variants, the new lamps produce a 4000K white/yellow light which is warmer on the color spectrum, providing a more natural illumination
Sabeena Wahid
editor@greentechlead.com