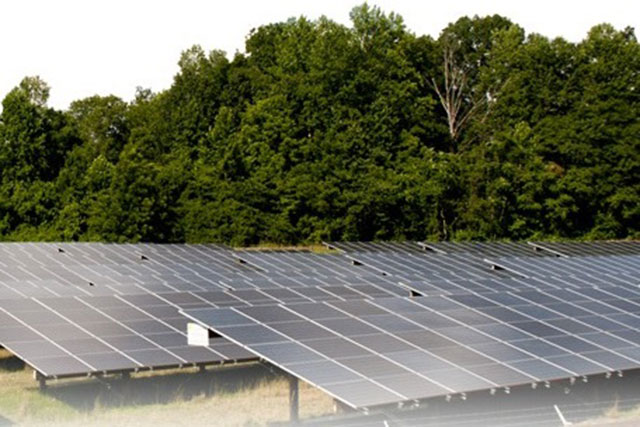 Punjab's Deputy Chief Minister Sukhbir Singh Badal on Tuesday inaugurated the state's largest solar power plant of 100 MW set up near here the Adani Group subsidiary Adani Green Energy Ltd at an investment of around Rs 640 crore.
Badal said the plant would prove to be a game changer not only for 232 farmers who have given their land on lease for the project but would also act as a catalyst for others to follow.
Badal said this is the country's biggest horizontal single axis tracker plant at a single location and would be instrumental in changing the face of the state.
The Deputy Chief Minister said the state is contemplating bringing approximately 25,000 acres under the solar power.
He said the state government has accomplished what it promised, as is clear from the allround progress the state has made.
Badal said in the next five years all 12,000 villages of the state would be provided with sewerage facilities, solar lights and concretised streets at a cost of Rs 35,000 crore.
He said the airport at Bathinda would be operationalised soon, providing a major relief to the people of the region.
Criticising the Aam Aadmi Party (AAP) and the Congress for being out of tune with the needs and aspirations of Punjab, he said no effort would be spared to ensure further progress of the state on all developmental parameters.
State'a New and Renewable Energy Minister Bikram Singh Majithia said the times are changing fast and the solar power is fast emerging as the core sector with ample scope for the future.
He said the farmers who have given their lands for the plant would get Rs 55,000 per acre per annum which would increase by five percent every year.
The solar power sector has attracted most investment in Punjab and it is evident from the fact that in 2012 the investment was Rs 82 crore which has today risen to Rs 10,000 crore, Majithia said.
The minister said Mansa, Bathinda and Muktsar are emerging as a hub of solar power.
The Adani Group said the 100 MW solar plant project at Sardargarh and Chughe Kalan villages has been commissioned almost six months ahead of schedule.
"We are moving closer to our aim of revolutionising the renewable energy sector in India," an official statement quoting Jayant Parimal, chief executive officer of Renewable Energy Business of the Adani Group, said.
Apart from the 100 MW Solar Power Plant in Bhatinda, the company also has a 40 MW solar plant at Bitta in Gujarat and has recently unveiled a 648 MW solar power project at Ramanathapuram district in Tamil Nadu. It is the world's largest solar power plant at a single location.
The company has also signed a JV with the Rajasthan government to develop the country's largest solar park in the state with 10,000 MW capacity.