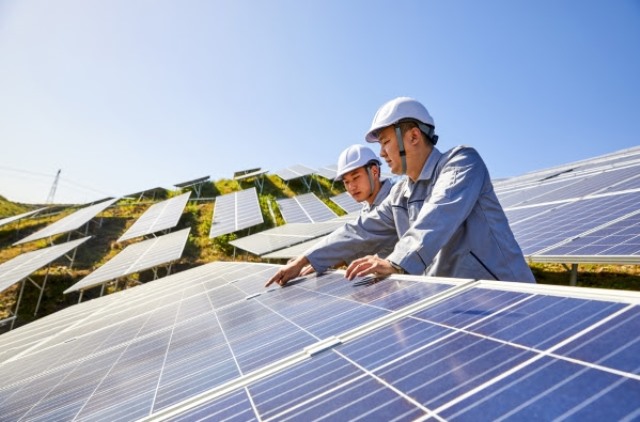 The European Union's plan to expand solar and wind power depends on a significant expansion of the solar and wind workforce at a difficult time for hirers, Reuters news report said.
Solar employment in the EU rose by an estimated 30 percent in 2022 to around 600,000 jobs, including indirect roles in materials and logistics, according to industry group SolarPower Europe.
By 2030 the EU will need more than 1 million solar workers to meet higher renewable energy targets set recently by the EU to end the region's reliance on Russian oil and gas, SolarPower Europe said. Under its REPowerEU initiative, the EU aims to double solar capacity to 320 GW by 2025 and install 600 GW by 2030. Wind capacity must double to over 500 GW, it said, applying further pressure to the job market.
Some 80 percent of solar jobs in 2030 will be in installation roles, an area in which developers already struggle to find employees.
Solar builders are competing against the wider energy and automotive industries for workers, Sanda Bozic, Head of Human Resources EMEA at developer BayWa r.e., told Reuters Events.
"Companies in the industry are not only faced with the challenge to retain their workforce, but to grow it during a time when there is already a lack of fresh talent," Bozic said.
The European Commission (EC) has pledged to support skills development under a new Green Deal Industrial Plan set out on February 1, but industry officials want the EU to do more to help train and retain staff.
The skills shortage is one of the most bottlenecks that could endanger solar growth, a SolarPower Europe spokesperson warned.
Wider demographic shifts are behind many of the shortages, Stefan Hobmair, Head of People Development at developer BayWa r.e., said.
Germany, Europe's largest solar market, is predicted to lack 5 million workers by 2030, according to the German Economic Institute, as long-term falling birth rates reduce the number of people entering the job market.
At the same time, the increasing competitiveness of solar and ambitious installation targets mean that demand for workers is rising faster than in other sectors.
Around 60 percent of German electrical contractors working in the sector have vacancies while Swedish installation companies plan to hire 28,000 workers over the next five years, according to electrical contractors association EuropeOn.
The wind sector is a significant competitor for some skills, Antonio Scala, Head of People and Organization Global Industry at Enel, noted. EU wind employment was around 300,000 jobs in 2020, of which 62,000 were in the offshore wind industry, according to industry group WindEurope.
"In principle, the entire renewable field is highly competitive," Scala said. "The wind industry is more consolidated and mature but it is continuing to grow quickly, as a consequence it represents and will keep representing an important competitor for [skilled solar jobs]."
Tech shift
There are already shortages across the solar industry, from electrical, civil and mechanical engineering to project management and business development, Scala said.
Enel is also looking for new skills sets in solar and wind, such as sustainability experts, building information modelling (BIM) specialists and remote technical advisors.
The increased use of technology in the planning and development of solar projects means there will be increased demand for skills in geographic information systems (GIS) and data and systems analysis, said Heather Hayes, Global HR Director at developer Lightsource bp.
Right now, the biggest challenge for BayWa r.e is finding field service personnel for operations and maintenance (O&M) activities, Hobmair said. Optimised O&M requires a blend of data analysis and engineering expertise, while remote technologies are becoming more commonplace.
"While this is currently not having an impact on projects, we also have to take into account growing supply chain issues," Hobmair said. Volatile prices and logistics issues continue to hound developers following Russia's invasion of Ukraine and the global economic rebound from the coronavirus pandemic.
Skills dash
Enel mainly recruits from energy utilities and industrial sectors because many skills can be transferred, Scala said.
Around 70 percent of oil & gas jobs have some skill overlap with low-carbon roles, he noted.
As a power utility, Enel can benefit from a diversified business in which the gradual closure of coal-fired power plants offers a potential talent pool. For example, the company is providing PV panel installation training to more than 120 people from the Torrevaldaliga Nord coal-fired power plant near Rome.
Some companies are setting up their own training centres. Svea Solar opened three new training centres in Sweden, Spain, and Germany in 2022, training almost 600 people.
"We are seeing increased use of apprenticeship programmes across Europe and internships in the Americas," Hayes said.
"The span of advertising is being stretched to reach people from other industries and communities where there may be limited long term opportunities, such as military veterans," she said.
Standardisation of in-house training procedures will be crucial for companies looking to expand their businesses in a heated labour market.
Key staff often pass vital knowledge on an ad-hoc basis. For BayWa r.e., this will "become much more standardized and strategic over the next months and years," Hobmair said.
EU help
SolarPower Europe is now working with other industry groups such as buildings group GCP Europe and renewable energy association EUREC to "identify the concrete upskilling and reskilling measures needed to achieve our ambitious renewables' targets," its spokesperson said.
The industry group has expanded in-person works events and in December it launched Europe's first online solar recruitment tool to connect the sector with potential workers.
SolarPower Europe wants the EU to take a more hands-on approach and coordinate national training efforts to increase the mobility of the workforce between EU countries.
"The movement of workers could be better facilitated with an EU assessment of the skills gap, more standardised certifications, as well as country-level communications campaigns and partnerships on critical skills," the spokesperson said.
The EU's Green Deal Industrial Plan, if agreed by member states, would loosen EU state aid rules and this could open up new funding sources for renewable energy recruitment.
National governments should incentivise academic institutions and companies to create training programs, SolarPower Europe said.
This should include new university and college courses that fill workforce gaps as well as tax breaks for companies that run their own training programs, the spokesperson said.