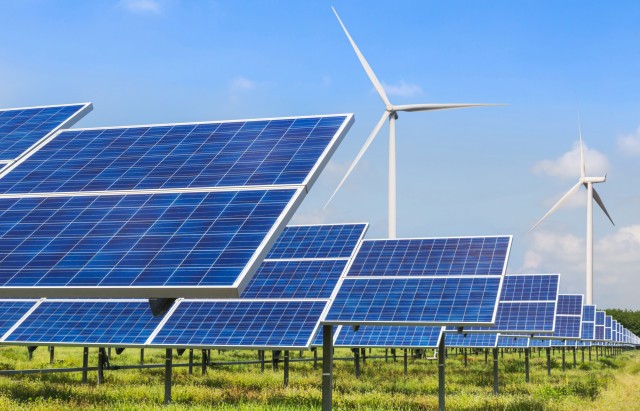 The world has committed a record $501.3 billion to decarbonization in 2020, beating the previous year by 9 percent, BloombergNEF (BNEF) said.
Companies, governments and households invested $303.5 billion (+2 percent) in new renewable energy capacity in 2020, helped by the biggest-ever build-out of solar projects and a $50 billion surge for offshore wind.
They also spent $139 billion on electric vehicles and associated charging infrastructure, up 28 percent and a new record, BNEF's analysis shows.
Installation of energy-efficient heat pumps came to $50.8 billion, up 12 percent, while investment in stationary energy storage technologies such as batteries was $3.6 billion, level with 2019 despite falling unit prices.
Global investment in carbon capture and storage (CCS) tripled to $3 billion, and that in hydrogen was $1.5 billion, down 20 percent but the second-highest annual number to date.
"Clean power generation and electric transport are seeing inflows, but need to see further increases in spending as costs fall. Technologies such as electric heat, CCS and hydrogen are only attracting a fraction of the investment they will need in the 2020s to help bring emissions under control," Albert Cheung, head of analysis at BNEF, said.
Europe accounted for the biggest slice of global investment, at $166.2 billion (up 67 percent), with China at $134.8 billion (down 12 percent) and the U.S. at $85.3 billion (down 11 percent). Europe's performance was driven by a record year for electric vehicle sales, and the best year in renewable energy investment since 2012.
A pack of charts illustrating the trends in energy transition investment discussed above is available via the following link.
Global investment in renewable energy capacity moved up 2 percent to $303.5 billion in 2020. This was the second-highest annual figure ever (after 2017's $313.3 billion), and the seventh consecutive total of more than $250 billion. Falling capital costs enabled record volumes of both solar (132GW) and wind (73GW) to be installed on the basis of the modest increase in dollar investment.
Highlights of the renewables investment total included a leap of 56 percent in financings of offshore wind projects to $50 billion, including the largest deal ever in that sub-sector – $8.3 billion for the 2.5GW Dogger Bank project in the U.K. North Sea.
The year also saw the largest single solar park ever funded, the 2GW Al Dhafrah in the United Arab Emirates, at a cost of $1.1 billion.
Overall, solar capacity investment was up 12 percent at $148.6 billion, and wind (onshore and offshore) down 6 percent at $142.7 billion. Biomass and waste-to-energy financings were down 3 percent at $10 billion.
In terms of regions, renewable energy capacity investment in Europe, at $81.8 billion, up 52 percent, was its highest since 2012 and almost caught up with China, at $83.6 billion, down 12 percent. The U.S. fell 20 percent to $49.3 billion, as wind investment almost halved, and India slipped 36 percent to $6.2 billion.
Renewables capacity investment rose 10 percent in Japan to $19.3 billion, 177 percent in the U.K. to $16.2 billion and 221 percent in the Netherlands to $14.3 billion. Spain was up 16 percent at $10 billion, Brazil up 23 percent at $8.7 billion, Vietnam 89 percent higher at $7.4 billion, France 38 percent up at $7.3 billion, and Germany 14 percent up at $7.1 billion. Other markets seeing $3 billion-plus totals included Taiwan, Australia, South Korea, Poland, Chile, Turkey and Sweden.