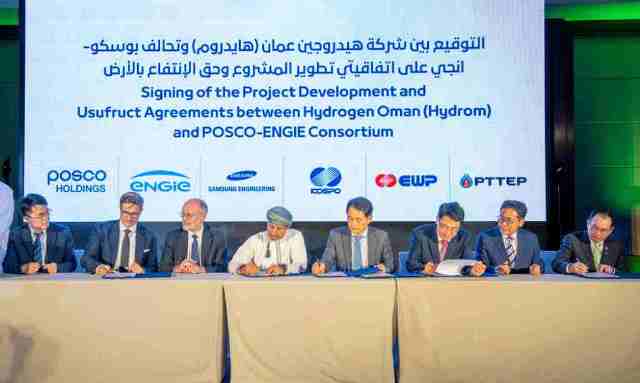 ENGIE and POSCO, two prominent companies in the energy and steel sectors respectively, have formed a consortium to undertake an ambitious Green Ammonia project in Oman, with a capacity of 1.2 million tons per annum (mtpa).
This consortium includes other partners such as Samsung Engineering, Korea East-West Power Co. (EWP), Korea Southern Power (KOSPO), and FutureTech Energy Ventures Company, a subsidiary of PTTEP.
The consortium led by ENGIE and POSCO emerged as the successful bidder for land block (Z1-02) offered by Hydrom, the entity responsible for overseeing Oman's green hydrogen industry. Situated in Duqm and covering an area of 340 square kilometers, the concession block will be complemented by downstream infrastructure at the Port of Duqm. The project aims to commence commercial operations by 2030.
The land block will accommodate a total renewable energy capacity of approximately 5 gigawatts (GW), incorporating wind and solar power generation. Additionally, battery energy storage (BESS) and a hydrogen plant will be established, capable of producing 200 kilotons per annum (ktpa) of green hydrogen. The hydrogen will be transported via a pipeline to the Special Economic Zone at Duqm, where it will be converted into roughly 1.2 million tons per annum (mtpa) of green ammonia for export.
This collaboration between POSCO and ENGIE follows a Memorandum of Understanding (MoU) signed in March 2022, outlining their joint exploration of green hydrogen production and associated infrastructure development in the Middle East, Australia, and Latin America. The project is a significant step for ENGIE in its commitment to achieving net-zero carbon emissions by 2045 and aligns with POSCO's vision of establishing a green hydrogen-based steel business by 2050.
The initiative contributes to ENGIE's goal of generating 80 GW of renewable energy capacity and 4 GW of electrolyzer capacity by 2030, further solidifying the company's position in the global transition towards zero-carbon solutions. Furthermore, it aligns with Korea's national objective of reducing carbon footprint by 40 percent by 2030, while supporting Oman's Vision 2040, which emphasizes energy transition and diversification of the industrial sector.
Under the terms of the contract, the project will span 47 years, consisting of a seven-year phase for development and construction, followed by a 40-year operational period. The consortium aims to commence construction in 2027, with the first shipment of green ammonia to Korea scheduled for the second half of 2030. Feasibility and technical studies will be conducted by the consortium to finalize the total capital expenditure required for the project.