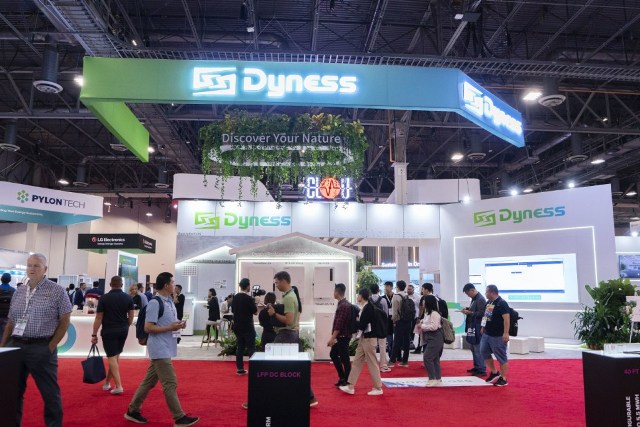 In a showcase of innovation and dedication to comprehensive energy storage solutions, Dyness, a leading name in energy storage technology, took center stage at the prestigious RE+ 2023 exhibition held from September 12 to 14. Dyness, stationed at booth 5125, presented an array of state-of-the-art storage products that captivated the attention of visitors.
Dyness drew considerable interest with its exclusive range of storage products, particularly the Orion Series and Powerbox-US for residential use, along with the versatile portable storage series. These products stood out for their technological advancements and outstanding performance, reflecting Dyness's commitment to revolutionize the energy storage landscape.
The Orion Series, characterized by its all-in-one system, provides unmatched flexibility through its modular design, offering expandable capacity ranging from 9.9kWh to 19.9kWh. This flexibility ensures users achieve power sufficiency tailored to their specific needs. Moreover, the system can adapt to various installation requirements, showcasing different physical combination forms that minimize space constraints, making it suitable for diverse settings such as garage walls or basements.
Dyness further enhanced user experience by offering a mobile application for sophisticated remote management and real-time monitoring capabilities. This feature empowers users to conveniently control and monitor their energy storage system from anywhere, optimizing energy usage while staying informed about system performance.
In the portable storage category, products like E-lapis and E-Pearl caught the attention of attendees. These lightweight and durable offerings provide a reliable power supply for outdoor scenarios. Notably, they support diverse charging methods, including solar input and car charging, making them an ideal choice for outdoor activities and emergencies. The ability to simultaneously charge multiple electronic devices adds to their appeal.
As part of their engagement during the exhibition, Dyness hosted a roundtable forum attended by industry leaders, experts, and customer representatives. The forum, featuring Dyness CEO Mr. Yang Liu, delved into discussions regarding the trends in the North American energy storage market and how Dyness can explore diverse energy storage solutions to cater to evolving customer needs.
In line with its commitment to innovation, Dyness outlined its upcoming product roadmap during the exhibition. They announced intentions to release highly-integrated and intelligent energy storage systems aimed at empowering individuals and communities with reliable and environmentally-friendly power sources in North America. With these innovative solutions, Dyness is strategically positioned to meet the evolving demands of the region and sustain its rapid growth within the storage industry.