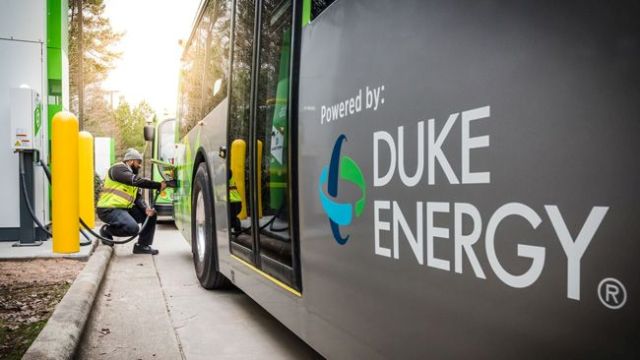 Duke Energy announced that it owns, operates, or purchases more than 10,000 MW of solar and wind energy throughout the United States from both its regulated and nonregulated businesses.
Duke Energy has set a goal of reaching 16,000 MW of renewables by 2025 and 47,000 MW by 2050.
Duke Energy renewables portfolio includes nearly 200 sites in 22 states, with over 1,000 megawatts of new projects under construction throughout the country, including Florida, Texas, and the Carolinas.
The company's current renewables portfolio capacity generates enough energy to serve the equivalent of approximately 2.4 million homes and businesses.
"Renewables are playing a major role as we make strong progress toward our ambitious climate goals of at least 50 percent carbon reduction by 2030 and net-zero by 2050," said Brian Savoy, Duke Energy's executive vice president, chief strategy and commercial officer.
Currently, Duke Energy employs nearly 700 wind and solar technicians, project developers, support staff, and third-party contract workers, as well as provides more than $29 million in annual lease payments to local landowners.
Pflugerville Solar
Located in Travis County, Texas, the 144-MW Pflugerville Solar project is the fifth utility scale solar facility that Duke Energy Sustainable Solutions has placed in commercial operation in the state. Earlier this year, it also announced the construction of a sixth solar facility, the 250-MW Pisgah Ridge Solar project in Navarro County, Texas, which is expected to achieve commercial operation by the end of 2022.
The energy generated from the Pflugerville Solar project will be sold to Austin Energy under a 15-year power purchase agreement (PPA).
Austin Energy, the city of Austin's electric utility, serves more than 528,000 customer accounts and more than 1 million residents in Greater Austin. This PPA supports Austin Energy's renewable energy goals.
"We currently meet about 70 percent of our customers' energy needs with carbon-free resources," said Austin Energy General Manager Jackie Sargent. "Adding the Pflugerville Solar project to our portfolio will bring us closer to meeting our affordability and climate protection goals adopted by the Austin City Council and championed by our customers."
Duke Energy Sustainable Solutions acquired the project from Recurrent Energy, a wholly owned subsidiary of Canadian Solar, in December 2020.
The 932-acre site, which contains approximately 489,600 Canadian Solar bifacial BiKu modules, will generate enough energy to power approximately 27,000 homes.
The engineering and construction for the project were performed by Signal Energy, and Duke Energy Sustainable Solutions will provide long-term operations and maintenance services to the project.