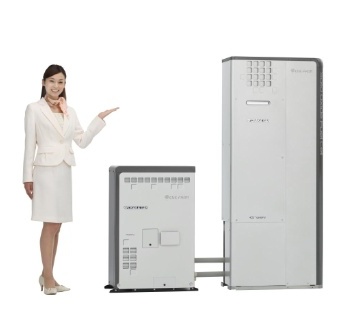 Greentech Lead Asia: Kyocera, Osaka Gas, Aisin, Chofu,
and Toyota have co-developed a residential-use solid oxide fuel cell (SOFC)
co-generation system called ENE-FARM Type S.
The SOFC system has been developed based upon the
companies' advanced technologies.
The ENE-FARM Type S achieves a power generation
efficiency of 46.5 percent, the highest level in the world for a
residential-use fuel cell.
ENE-FARM Type S utilizes ceramic electrolyte for the
power generating cell stack to achieve operating temperature of 700 to 750
degrees Celsius. This temperature heat can be used as energy to reform utility
gas to hydrogen and thus a high power generation efficiency level of 46.5
percent is achieved, with an overall energy efficiency of 90.0 percent.
The SOFC system includes a hot-water supply and heating
unit which uses exhausted heat with a storage tank at a small size of 90
liters, as well as a high efficiency latent heat recovery type hot-water supply
heating unit for the back-up boiler.
The system will eliminate annual CO2 emissions of about
1.9 tons while also reducing annual energy costs of about JPY76,000 (USD916)
compared to ordinary gas-powered hot-water supply and heating units.
The companies will expand their production operations and
will strive to promote the use of this SOFC system. The system can be installed
at homes with limited installation space in the future. The companies also plan
to expand use of the system to apartment buildings.
The companies submitted 121 units in total to the
Demonstrative Research on Solid Oxide Fuel Cell project undertaken by the New
Energy and Industrial Technology Development Organization (NEDO) and the New
Energy Foundation.