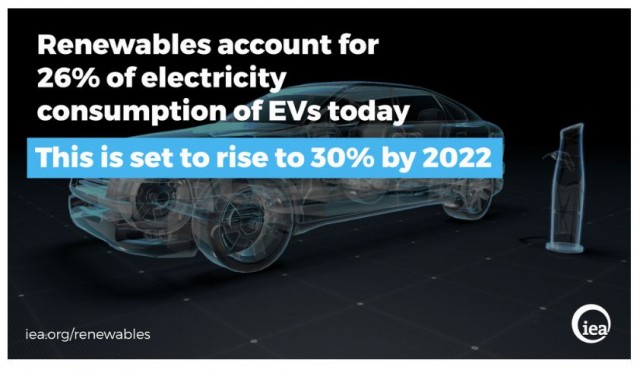 The market for renewable electric vehicles has not picked up momentum as expected, according to the report from International Energy Agency (IEA), which says the growth has been marginal, from over 4 percent in 2016 to 4.5 percent in 2022.
Renewables will account for 30 percent of electricity consumption of EVs by 2022, up from 26 percent today, the report says. Globally, electricity consumed by EVs – including cars, two- and-three wheelers, and buses – is expected to double by 2022 but will still account for less than 1% of total electricity generation.
Despite strongly rising sales, the share of EVs remains limited, and biofuels are still expected to represent over 90% of total renewable energy consumption in road transport by 2022, the report said.
As a result, biofuels production is expected to grow by over 16% during over the forecast period.
Asia and Brazil lead the biofuel market thanks to the availability of feedstocks and favorable policies from government. In the U.S., ethanol and biodiesel production also expands as a result of supportive policy frameworks.
Modest growth is expected in the European Union given that the policy landscape after 2020 is not expected to encourage industry investment.
Advanced biofuels such as cellulosic ethanol have also seen progress in recent years, but are still not competitive with petroleum products. However, their production is expected to almost quadruple from a low base, which is still just over 1% of total biofuels production.
The rising demand for renewable EVs is driven by the rapid growth of two- and three-wheelers in China but also results from electric cars in European markets with high shares of renewable generation.
The United States represents over one-fifth of global electricity consumption in cars, but the estimated consumption of renewable electricity is expected to be smaller than in China and Europe as a result of the lower share of renewables in the electricity mix.
Rajani Baburajan
editor@greentechlead.com