The latest report from TrendForce, titled the "2023 Global Li-Ion Battery Industry Chain Market Supply and Demand Report," has unveiled significant developments in the global lithium industry. According to the report, global lithium production in 2022 reached an impressive 860,000 tons of Lithium Carbonate Equivalent (LCE).
One of the notable highlights in the lithium industry is the recent buyout proposal made by US lithium producer Albemarle Corp (ALB) to Australian mining company Liontown Resources Ltd. The proposal, valued at AUD 6.6 billion (USD 4.3 billion), is set to further reshape the global lithium landscape.
ALB, renowned for its diverse lithium portfolio, which includes spodumene, lithium salt, and tolling, has already contributed over 180,000 tons of LCE to global lithium production. Predictions for 2023 indicate a surge in global lithium production, reaching approximately 1.21 million tons LCE. ALB is positioned to play a significant role in this growth, with plans to produce 200,000 tons of LCE, solidifying its 17 percent market share.
TrendForce's report highlights ALB's strategic advantage in securing high-quality and cost-efficient lithium reserves worldwide, particularly in regions such as Chile, Australia, and the United States. ALB is also a global leader in lithium refinement, boasting the world's highest lithium salt production capacity. Currently, ALB's annual production capacity for lithium hydroxide stands at a remarkable 110,000 tons, accounting for 23 percent of the world's total production.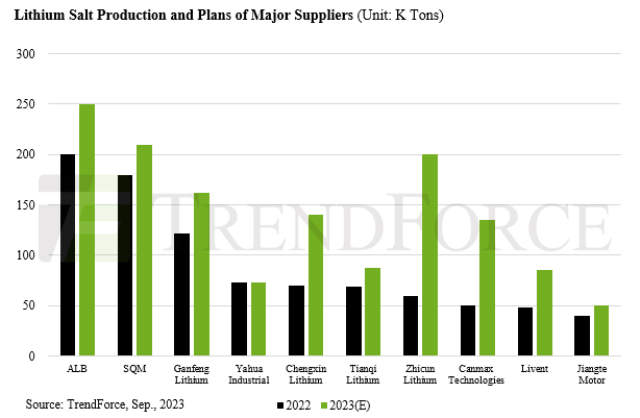 Liontown Resources holds a crucial position in Australia's battery minerals supply chain, controlling two major hard rock lithium deposits: Kathleen Valley and Buldania. These deposits represent lithium reserves of 156 million tons (equivalent to 5.4 million tons of LCE) and 14.9 million tons (equivalent to 370,000 tons of LCE), respectively. Kathleen Valley is poised for completion by the end of 2023, with an initial production phase scheduled for 2Q24, targeting an annual output of 500,000 tons of lithium spodumene concentrate, with future plans to increase production to 700,000 tons annually. Meanwhile, the Buldania project is in its early stages, focusing on exploration and surveying.
If ALB's acquisition of Liontown Resources proceeds, it will solidify ALB's position as the world's largest holder of lithium resources and strengthen its lithium salt production capabilities. However, ALB is not the sole major player in this dynamic industry. Other prominent lithium producers, including SQM, Tianqi Lithium, Ganfeng Lithium, Yahua Industrial, Chengxin Lithium, and Livent, are also expanding their lithium carbonate and lithium hydroxide production capacities.
Lithium, a vital component of modern technology, is poised to witness a substantial increase in global demand. TrendForce's insights indicate that 2022 saw approximately 40 lithium mining projects worldwide, with projections of over 100 projects in production after 2025. To secure their global dominance and enhance their competitive edge, lithium chemical producers are strategically collaborating with upstream lithium miners to secure vital lithium resources. Recent examples include Livent's merger with Allkem in May of this year and ALB's pursuit of Liontown Resources. This trend points toward a more consolidated global lithium resource landscape, with mergers and acquisitions expected to become increasingly common in the coming years.