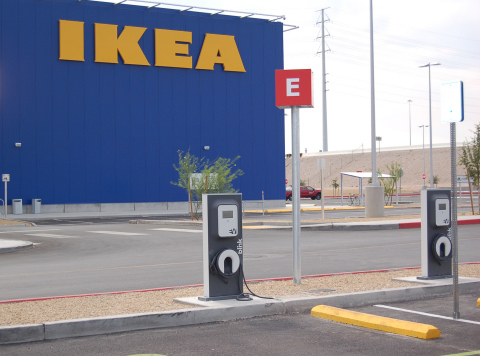 IKEA, a home furnishings retailer, in partnership with Car Charging Group, has installed three Blink electric vehicle (EV) charging stations at its Las Vegas, Nevada store.
Car Charging's Blink Network and Blink EV charging stations are spread across 36 U.S. states and two countries.
Amy Jensen, IKEA store manager, said, "Being a sustainable retailer includes a focus on the sustainable transport of people and empowering our customers to live sustainably too. So, accommodating the needs of EV drivers meets both goals."
To charge an EV at IKEA Las Vegas, drivers can tap their Blink InCard (RFID card) to the reader below the screen, initiate the session directly from the Blink Mobile application, or use a guest code provided via the Blink Mobile app, www.BlinkCode.com, or Blink Customer Support.
IKEA, drawing from its Swedish heritage and respect of nature, takes sustainability to its core. It is engaged in activities like recycling waste material; incorporating environmental measures into the actual buildings with energy-efficient HVAC and lighting systems, recycled construction materials, skylights in warehouse areas, and water-conserving restrooms; and operationally, eliminating plastic bags from the check-out process, and selling only LED bulbs.
Consistent with the goal of being energy independent by 2020, IKEA has installed more than 700,000 solar panels on buildings across the world and owns approximately 300 wind turbines, including 104 in the U.S.
Rajani Baburajan
editor@greentechlead.com