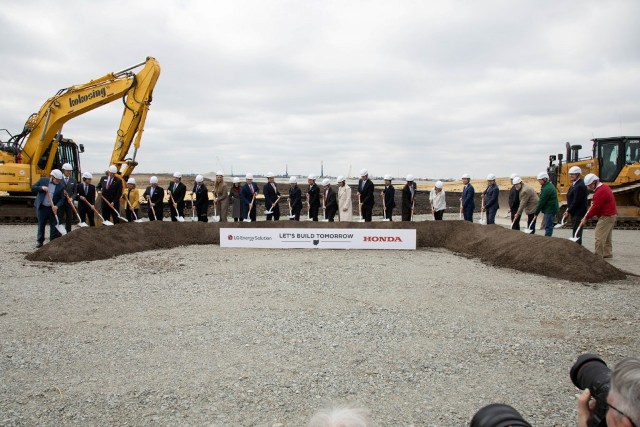 Honda and LG Energy Solution held the official groundbreaking ceremony for a new joint venture EV battery plant over 2 million square feet in size, to be located in Fayette County, near Jeffersonville, Ohio.
Honda and LG Energy Solution will invest $3.5 billion in the new JV facility, with their overall investment projected to reach $4.4 billion. The facility is scheduled to be completed by the end of 2024, with plans to create 2,200 jobs, and the aim for approximately 40GWh of annual production capacity. The JV company will deliver lithium-ion batteries with cutting-edge technology to support Honda's plan to build battery-electric vehicles (EV) in North America.
The facility located about 40 miles southwest of Columbus aims to start mass production of pouch-type lithium-ion batteries by the end of 2025, to be provided exclusively to Honda auto plants to produce EVs to be sold in North America.
Honda also has announced plans to invest $700 million to re-tool several of its existing auto and powertrain plants in Ohio for production of electric vehicles that will utilize the batteries made at the new JV facility.
Honda plans to begin production and sales of Honda EVs in North America in 2026, based on its new Honda e:Architecture. Honda has a vision to make battery-electric and fuel cell electric vehicles represent 100 percent of its vehicle sales by 2040.
LG Energy Solution has annual production capacity of 200GWh and it aims to further expand to 300GWh by the end of this year.