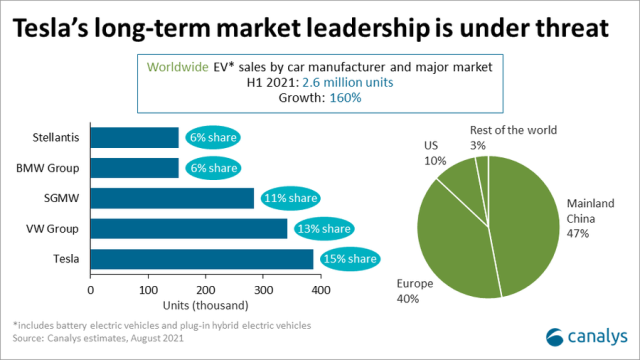 The latest Canalys report estimates indicate the electric vehicle (EV) market share of Telsla, Volkswagen Group, SGMW, BMW and Stellantis.
Tesla led the worldwide electric vehicle (EV) market with 15 percent share in the first half of 2021, Canalys said.
Tesla has been overtaken in Europe but continues to dominate in the US.
Volkswagen Group was second with a 13 percent market share in EV space, and it led in Europe. VW has been successful with its ID family of EVs. VW, like many other carmakers, faces a backlog of orders and long customer lead times due to chip shortages. Other brands in the group have also expanded their EV ranges.
SGMW, the combination of SAIC, GM and Wuling, came third with an 11 percent market share. The big success in the group has been the Hongguang Mini EV in China.
BMW Group came fourth with a 6 percent share in H1 2021. BMW and Mini have launched several EVs recently, with more to come across its vehicle segments.
Stellantis was fifth in EV market with 6 percent share. Stellantis will introduce four new EV platforms to use across vehicles from the 14 brands in the group. The Fiat 500 EV had a successful launch in early 2021, while several EVs from the former PSA Group have helped its sales volumes.