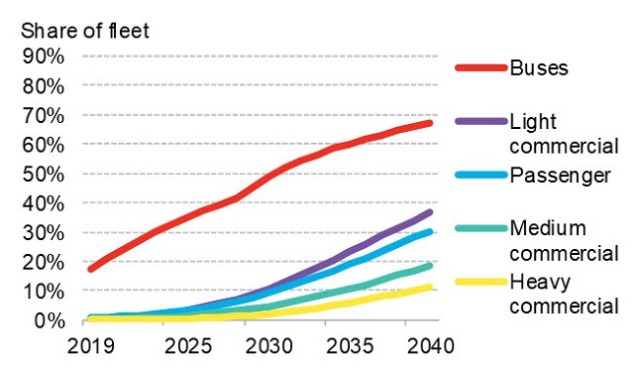 Electric vehicles are on track to dominate global sales of passenger cars and buses by 2040, according to the latest forecast from research firm BloombergNEF (BNEF).
BNEF's Electric Vehicle Outlook 2019 shows electrics taking up 57 percent of the global passenger car sales by 2040. Electric buses are set to hold 81 percent of municipal bus sales by 2040.
Electric models will be taking 56 percent of light commercial vehicle sales in Europe, the U.S. and China within the next two decades, plus 31 percent of the medium commercial market.
"Electrification will take time because the global fleet changes over slowly but, once it gets rolling in the 2020s, it starts to spread to many other areas of road transport. We see a real possibility that global sales of conventional passenger cars have already passed their peak," Colin McKerracher, head of advanced transport for BNEF, said.

The shared mobility services such as ride-hailing and car-sharing will account for less than 5 percent of all passenger miles travelled globally at the moment and will rise to 19 percent by 2040. Autonomous driving will not have an impact on global transport and energy patterns until the 2030s.
The driver for the electrification trend over the next 20 years will be sharp reductions in EV battery costs. Since 2010, the average cost of lithium-ion batteries per kilowatt-hour fell by 85 percent on a mixture of manufacturing economies of scale and technology improvements.
China's electric cars account for 48 percent of all passenger EVs sold in 2025 and 26 percent in 2040. Europe will become the number two EV market globally during the 2020s beating the U.S.
Passenger EV sales will rise from 2 million in 2018 to 28 million in 2030 and 56 million by 2040. Conventional passenger vehicle sales will drop to 42 million by 2040, from around 85 million in 2018.
EVs will add 6.8 percent to global electricity consumption in 2040. EVs will drive a surge in EV lithium-ion battery demand from 151 gigawatt-hours in 2019 to 1,748GWh in 2030.