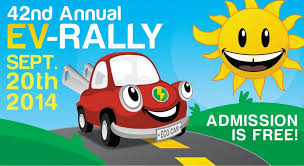 The "Experience Electric – The Better Ride" campaign will offer free test drives for selected newest electric cars on Sept. 20, at the Annual Silicon Valley EV Rally and National Drive Electric Week event in Cupertino.
The EV ride-and-drive event will display BMW i3, Cadillac ELR, Fiat 300e and Nissan Leaf, as well as Zero motorcycles and many more.
Drivers can come and take the driving experience of various EVs and feel the difference between driving them and a gasoline-powered car. The first 300 participants will receive souvenir sunglasses and a $5 lunch voucher.
The Silicon Valley EV rally is recognized among 100 events held during National Drive Electric Week, designed to promote sustainability, convenience and fuel-saving benefits of using an EV.
The Experience Electric campaign is a joint program of the Metropolitan Transportation Commission (MTC), the Bay Area Air Quality Management District and a consortium of EV organizations like the Center for Sustainable Energy, Plug In America and Charge Across Town.
The campaign aims to increase EV adoption in nine counties of Bay Area. The state and local governments promote EVs to reduce emissions, improve air quality and achieve the target of eliminating greenhouse emissions.
editor@greentechlead.com