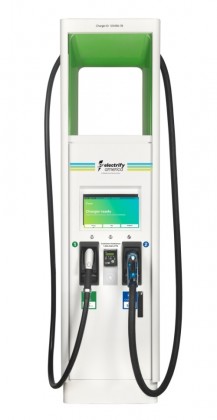 ABB has been selected to supply its Terra HP charging stations to Electrify America, reportedly for the biggest electric vehicle infrastructure project to date in the United States.
Electrify America plans to place hundreds of charging stations within and around 17 metropolitan areas and along multiple nationwide highway corridors.
ABB claims its EV chargers can refresh even the largest electric vehicle battery in less than 15 minutes.
"Electrify America wanted experienced partners to deploy high power charging technologies that equally serve every battery electric vehicles today, as well as the next generation of large batteries, and we're pleased to have ABB as one of our key suppliers," said Seth Cutler, chief engineer, Electrify America.
"These new charging systems are designed to provide an optimal driver experience – offering fast, convenient and reliable service whenever and wherever they need it," Cutler added.
Greg Scheu, president of ABB's Americas region, said, "Our Terra HP systems will ensure that sustainable e-mobility is supported with industry leading, high power charging technology, and will remain so into the future."
The project is expected to accelerate the adoption of EVs in the coming years. Nearly 200,000 EVs were sold in the U.S. in 2017. However, the country's charging infrastructure hasn't kept the pace required to spur mass adoption of electric transportation.
Among some prospective consumers, "range anxiety" – wondering if they will find someplace to recharge their batteries during a road trip – continues to be a deterrent when it comes to electric vehicles, according to ABB.
The Terra HP, ABB claims, can operate at powers of up to 350 kilowatts. Further it can add almost 200 miles (320 kilometers) of range to an EV in a time frame not much longer than needed to refuel a gas engine vehicle.
Electrify America's plan to place chargers on its highway routes at intervals of no more than 120 miles (195 kilometers).
ABB's Terra HP chargers are compatible with both the CCS and CHAdeMO DC fast charging standards.
editor@greentechlead.com