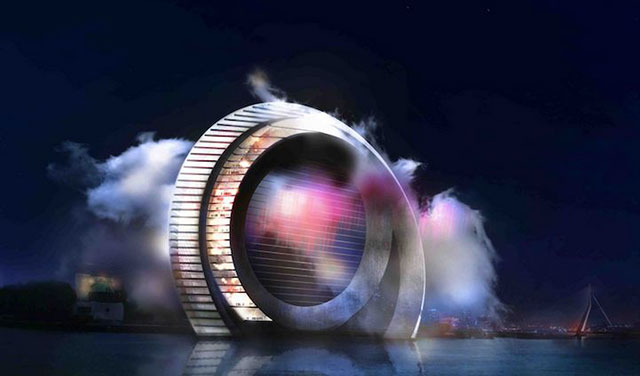 Wind turbine technology is turning a new leaf in the Netherlands. A futuristic project coming up in the country would not only help harness green energy but also provide people with space to live.
Named The Dutch Windwheel, the ambitious concept utilizes electrostatic wind energy converter technology, or EWICON, to generate electricity.
The structure will also house apartments, a restaurant and a hotel.
EWICON was developed based on research conducted at Delft University. The project was the subject of a doctoral dissertation in 2008.
The advantage the technology offers is that it involves no moving rotor unlike the traditional turbines.
The bladeless technology works by first rendering water droplets with a positive charge. The positively charged particles are then allowed to be blown away by wind from a negative ion collector.
The double-ring construction built of light, open steel and glass is submerged to create the effect of a floating wheel.
One blind spot of the technology, however, is the quantity of renewable energy it would produce.
It wouldn't be as efficient as a traditional wind turbine, according to experts.
But the building-cum-turbine will showcase several sustainable design practices including rainwater collection, passive solar design and waste-to-biogas conversion, besides photovoltaic modules.
Ajith Kumar S
editor@greentechlead.com