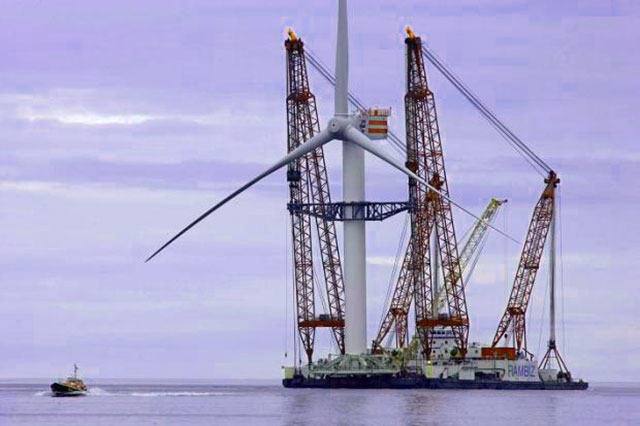 The state-owned energy company of Sweden, Vattenfall, is constructing a 49.5-megawatt, 15-turbine offshore wind farm 8km off the coast of Kent in England.
Called the Kentish Flats Extension, the project will be capable of generating adequate power to meet the equivalent of annual electricity demand of 35,000 UK households.
The 150-million-pounds project is the only offshore project in the waters of UK in 2015. And it is expected to go into operation later this year.
It is being claimed as a tough project as Vattenfall will need to pile foundations 30 meters into the seabed, install 139.6-meters tall turbines weighing 600 tons offshore.
"It doesn't get tougher than this," says Matthew Green, the project director for Kentish Flats Extension at Vattenfall. He says it will be a real challenge to complete the project "on schedule and to budget with, most importantly, maximum emphasis on safety".
Vattenfall had officially inaugurated its 80-turbine Dan Tysk Offshore Wind Farm in German waters recently.
According to a recently published report by GlobalData, Germany will pip UK as the leader in offshore projects this year. But developers in the sector hope to keep the momentum going in the UK as well.
"It's important the UK pipeline keeps delivering — and Kentish Flats Extension does that in a modest way — so that British suppliers can maintain a foothold in the sector and help capture the significant economic opportunities that go with it," Piers Guy, the country manager of Vattenfall UK, said.
Ajith Kumar S
editor@greentechlead.com