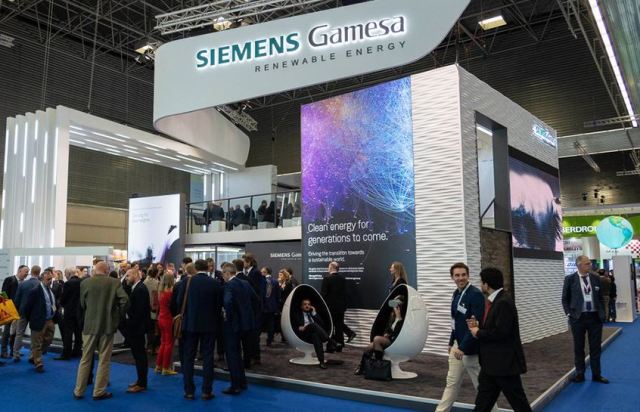 Siemens Gamesa has won a contract for the delivery of 60 units of its SG 14-222 DD offshore wind turbine at the Moray West offshore wind power project located in Scotland's Moray Firth.
The wind turbines will have a capacity of 14.7 MW each and utilize the PowerBoost feature. A service agreement is included in the order for the 882 MW-project.
Siemens Gamesa will produce all 180 Siemens Gamesa B108 IntegralBlades at the company's offshore blade factory in Hull, England.
The Moray West wind power project is being developed by Ocean Winds, a 50-50 joint venture between EDP Renewables (EDPR) and ENGIE. Ignitis Group has a minor shareholding in Moray West. In the United-Kingdom Ocean Winds is also the majority shareholder of Moray East, Scotland's largest offshore wind farm.
Ocean Winds has recently been awarded exclusive rights by Crown Estate Scotland to develop a bottom-fixed offshore wind project of at least 1 GW, now named Caledonia, adjacent to the existing Moray East and Moray West seabed lease area.
"Signing the firm order for Moray West serves to further cement Siemens Gamesa as the leader of the offshore revolution," said Marc Becker, CEO of Siemens Gamesa Offshore Business Unit.
The Moray West project will be located over 22 km from the Moray Council coast in the northeast of Scotland. The project's deployment plan is targeting installation of the SG 14-222 DD machines in 2024. with first power expected to be produced in 2024. Moray West will serve as the first serial installation of Siemens Gamesa's 14 MW machine.
Adam Morrison, Project Director for Moray West, said: "Siemens Gamesa has a strong track record, and this model will allow the next progression in efficiency for offshore wind power generation. Our early commitments to Siemens Gamesa will result in the first of the 108 m blades from the expanded Hull facility being used on Moray West."
SG 14-222 DD offshore wind turbine will have a capacity boosted up to 14.7 megawatts and feature a rotor diameter of 222 meters using 108-meter long Siemens Gamesa IntegralBlades. Launched in 2020, the first prototype of the massive machine was installed in 2021 in Denmark.