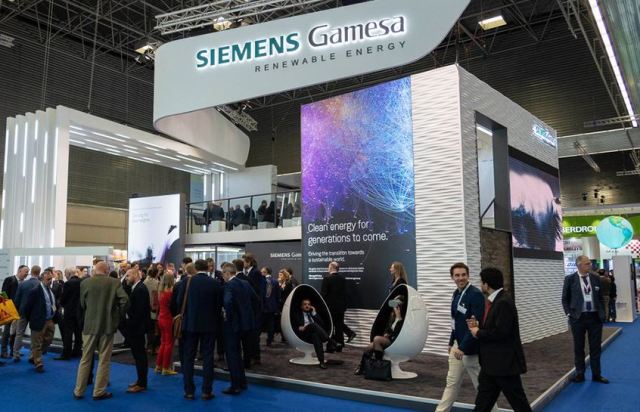 Siemens Gamesa has reported revenue of €2.436 billion (–10 percent) and net loss of €446 million in the three months up to June 30, 2022.
EBIT pre PPA and before integration and restructuring costs stood at -€343 million, equivalent to an EBIT margin of –14.1 percent between April and June 2022.
The wind turbine maker reported revenue of €6.442 billion (–12 percent) with net loss €1.226 billion in the first nine months of fiscal year 2022.
As of June 30, 2022, net debt totaled –€2.275 billion. Siemens Gamesa has €4.450 billion in committed funding lines, against which it has drawn €2.651 billion, and total liquidity amounts to €3.036 billion, including cash on the balance sheet at the end of the third quarter of fiscal year 2022 (€1.237 billion).
Siemens Gamesa's performance continued to be negatively affected by volatile market dynamics – inflation of energy, raw material and logistics costs, non-availability of key wind turbine components, port congestion, and supply delays.
Internal challenges include a difficult ramp-up of the Siemens Gamesa 5.X onshore platform and higher costs driven mainly by failure of components and repairs in legacy onshore platforms.
Siemens Gamesa adjusted its target for EBIT margin pre PPA and before integration and restructuring costs for fiscal year 2022 to -5.5 percent after previously announcing -4 percent. Siemens Gamesa aims to achieve revenue growth in line with the lower end of the previous range of –2 percent to –9 percent for 2022.
Siemens Gamesa said the strong momentum in renewables boosted the company's backlog to a record €33,980 million.
Siemens Gamesa's order intake from April to June amounted to €3.523 billion: €2.094 billion in Offshore (up 14.3-fold), €1.068 billion in new orders in Onshore (+27 percent), and €361 million in Service (-32 percent). Order intake during this quarter was 2.3 times the figure registered in the third quarter of fiscal year 2021.
Siemens Gamesa is taking steps for value creation under the Mistral strategy program, which aims to overhaul the current operating model, making the organization simpler and leaner. Siemens Gamesa will be strengthening the COO (Chief Operating Officer) and CTO (Chief Technology Officer) teams to accelerate harmonization and standardization across Siemens Gamesa. Businesses will focus on sales, projects and product roadmap, and keep full P&L responsibility. Details of the new operating model will be finalized by October 1, 2022.
Siemens Gamesa will create a single technology roadmap across the businesses, making cross-company platform solutions scalable and reducing non-conformance costs (NCCs) through harmonized processes and by focusing on key competencies across Siemens Gamesa.
"Under our new operating model, we will be able to support our customers faster and with greater expertise," said Siemens Gamesa CEO Jochen Eickholt in a news statement.
The COO will be responsible for manufacturing across the entire Siemens Gamesa portfolio. All supply-chain- and production-related activities globally will be combined under the COO's scope, enabling production standardization with the support of a qualified supplier network.
There will be a single technology development team spanning Offshore, Onshore and Service, led by the newly created Chief Technology Officer (CTO) position, summarizing all product-development-related activities globally. Siemens Gamesa will announce the new CTO.
Siemens Gamesa will implement the Mistral strategy in three phases, spanning short-term to long-term timelines, from 2022 to 2025 and beyond. The immediate goals are to achieve product maturity in the Siemens Gamesa 5.X onshore platform coupled with cost assurance.
Under the new operating model, Siemens Gamesa is preparing to reap significant cost synergies through the potential integration into Siemens Energy.