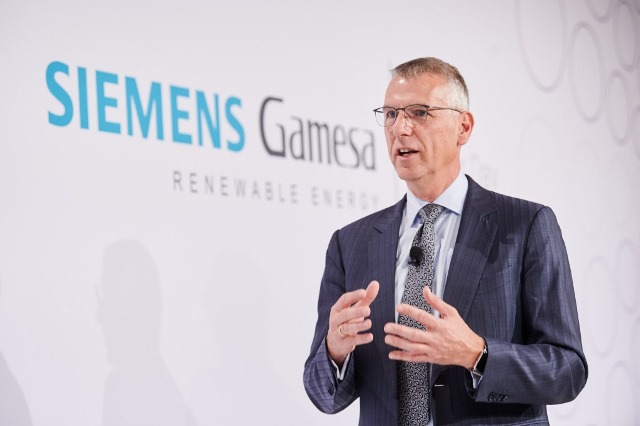 Siemens Gamesa said its revenue is expcted to decline 2-7 percent in FY22 reflecting the challenging industry environment.
Siemens Gamesa said revenue grew 7.5 percent to €10.19 billion, supported by 16 percent growth in Offshore and 9 percent rise in Service business from October 2020 to September 2021.
Siemens Gamesa reported net loss of €627 million vs. net loss of €918 million in FY20. Profitability was impacted by commodity price and transport cost and by higher ramp-up costs of the Siemens Gamesa 5.X platform.
Siemens Gamesa reported revenue of €2.863 billion and EBIT pre PPA and before integration and restructuring costs of –€177 with a margin of -6.2 percent between July and September.
The company's performance in FY21 reflected market imbalances caused by challenging supply chain conditions, with sharp increases in commodity prices, shortages of certain components, logistics bottlenecks and high transportation costs.
"We are operating in a very difficult environment with challenging short-term market dynamics and low visibility on supply chain normalization, and we will continue our efforts to return the company to sustainable profitability," said Andreas Nauen, Siemens Gamesa's Chief Executive Officer.
Siemens Gamesa signed orders worth €12.185 billion in FY21, and ended the year with an order backlog totaling €32.542 billion (+7.5 percent), i.e. €2.294 billion more than at September 30, 2020. The backlog in September 2021 covers 91 percent of the sales guidance announced for financial year 2022.
Order intake in Q4 21 amounted to €2.884 billion, +13 percent, with strong performance by Service and Offshore. Onshore logged €4.708 billion (–15 percent) in new orders in the year. The change reflects the company's commercial strategy, focused on controlling risk and prioritizing profits in the projects in the backlog, as well as a slowdown in sales activity on the Siemens Gamesa 5.X platform and a hiatus in the US and Spanish markets.
New platforms with capacity of 4 MW or greater accounted for 68 percent of total order intake in FY21, with the 5.X platform alone accounting for 30 percent.
Offshore order intake in FY21 amounted to €4.068 billion. Siemens Gamesa works with customers to prepare for the large volume of auctions expected in 2021 and 2022 (32 GW) and beyond (57 GW), given Offshore wind's role as the key energy source for attaining the decarbonization targets.
With 14 GW already in the backlog and pipeline, the Offshore Business Unit is preparing to fully benefit from a steep demand increase in FY25 and beyond.
Siemens Gamesa is investing in its industrial footprint to secure supply volume and in developing an evolutionary product portfolio. It is introducing the enhanced SG 14‑236 DD offshore wind turbine, with a 236-meter diameter rotor and capacity of up to 15 MW.
The Service division booked new orders worth €3.409 billion in FY21. As of September 30, 52 percent of the order backlog, i.e. €16.801 billion, was in Service, which expanded by 11 percent.