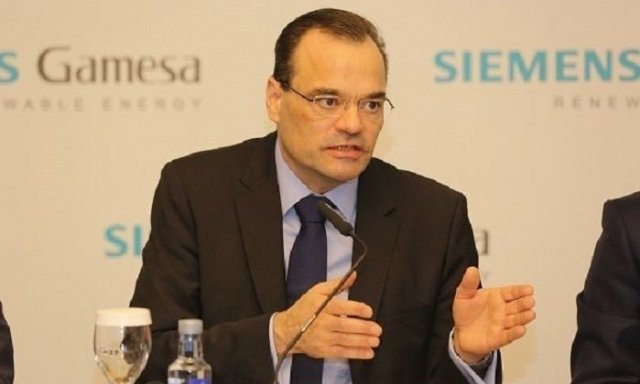 Siemens Gamesa CEO Markus Tacke said the trade war among the United States and China, two of the largest exporting countries of the world, and uncertainties in emerging markets are putting pressure on the wind turbine manufacturing industry, in particular, in the short-cycle Onshore business.
Siemens Gamesa recently announced the appointment of Alfonso Faubel, Onshore CEO, as part of the broader reorganization of the company's senior management team.
Siemens Gamesa said its L3AD2020 transformation strategy has assisted the wind turbine company to achieve a backlog of €25.1 billion at June 30, with order intake of €12.3 billion in the last 12 months.
Siemens Gamesa said its backlog is well balanced — €11.5 billion, or 46 percent of the total, belongs to service with a duration of close to 8 years, ensuring higher profitability, faster cash conversion and a more recurring nature.
Siemens Gamesa revenues increased 23 percent year-on-year to €2.632 million in the last quarter. It anticipates a strong performance in quarter 4.
Siemens Gamesa Onshore orders grew 44 percent to €1.7 billion, Offshore orders grew 33 percent to €2 billion, and Service orders grew 58 percent to close to €1 billion.
Siemens Gamesa's Onshore business landed the largest repowering order to date in the U.S. history. Siemens Gamesa reached 1.9 gigawatt of repowering projects in the U.S. with the last contract of 429 megawatt.
According to the energy consultancy of group Wood Mackenzie, 8 gigawatt of the existing wind fleet is expected to be subject to repowering in U.S. by 2025, out of 16 gigawatt expected globally.
Siemens Gamesa 4.5 megawatt class turbine is on its way to becoming one of the fastest selling wind turbine models in the company's history.
Siemens Gamesa's Offshore business is making good progress with new contracts in Taiwan, and opening new markets like Japan and the U.S.
Siemens Gamesa has received an order to supply 640 MW to Yunlin offshore power plant in Taiwan. It will supply the first Siemens Gamesa 8.0-167 offshore turbine in Asian market, a region with an increasing number of sizable opportunities.
In June, Siemens Gamesa received first preferred supplier nomination for an offshore wind project in Japan. It includes using Siemens Gamesa 8.0-167 offshore wind turbines for the Northern Akita offshore wind farm project, which has a capacity of up to 455 megawatts.
The wind turbine company has signed service contracts: 4-year multi-brand O&M and Diagnostics, analytics contract in Texas; multi-brand contract that includes availability and component warranty for 29 Vestas V90 turbines in Poland, Siemens Gamesa CFO David Mesonero said during the earnings call.