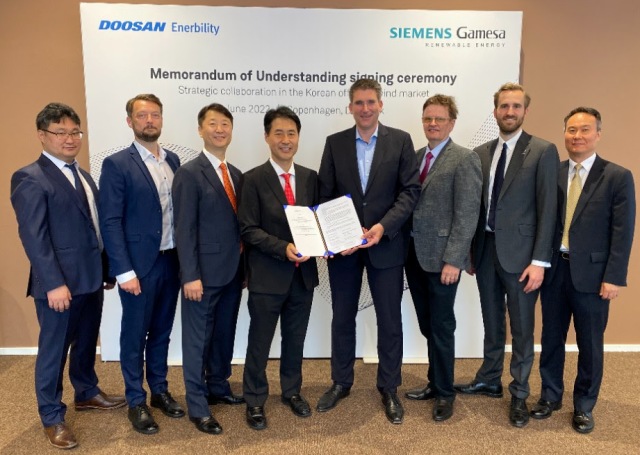 Siemens Gamesa and Doosan Enerbility signed a Memorandum of Understanding (MOU) to explore cooperation in offshore wind power business in South Korea.
The MoU, signed in Copenhagen, Denmark, will focus on large-scale offshore wind turbines, sharing of major services including construction of new Korean production facilities, the supply of wind turbine parts, offshore wind turbine installation, and turbine maintenance, among others.
The MoU will investigate potential products and services optimized for the domestic Korean offshore wind market. It will explore a Korean domestic supply chain and related industries. Furthermore, it will study potential job creation and industrialization in the Korean offshore wind power market.
Marc Becker, CEO of Siemens Gamesa Offshore Business Unit, led the Siemens Gamesa delegation during the signing ceremony, joining with Seung-woo Sohn, Doosan Enerbility's Executive Vice President in charge of Power Service Sales and Marketing, and leader of the Doosan Enerbility delegation.
Siemens Gamesa is the world's leading manufacturer of offshore wind turbines. Siemens Gamesa has installed more than 19.4 GW of offshore wind power capacity globally. The company's SG 14-222 DD offshore wind turbine is the world's largest wind turbine in operation.
Doosan Enerbility is the only manufacturer in Korea that has a supply record in the domestic offshore wind power market, including Tamra Offshore Wind Power (30MW) and Southwest Offshore Wind Power Phase 1 (60MW).