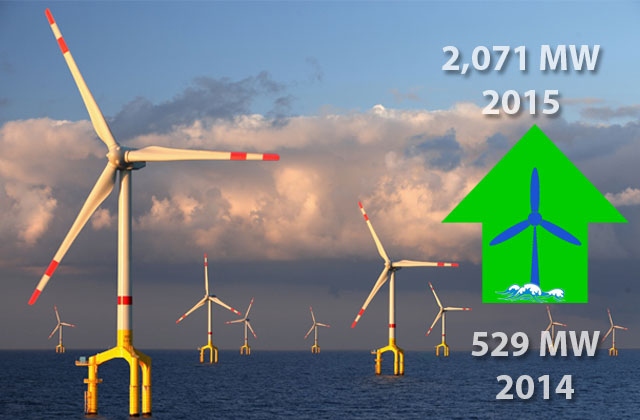 This year Germany will beat United Kingdom to the top spot in offshore wind turbine installations.
According to research and consulting firm GlobalData, the country will add 2,071 megawatts of offshore wind capacity in 2015. It is four times the capacity added in the previous year (529 MW).
In its latest report, GlobalData has stated that offshore wind installations around the world will increase by more than double this year. In numbers, that translates into rise in capacity from 1,681 MW last year to 3,903 MW this year.
Germany's expansion of offshore installations this year takes it to the top spot. And China is poised to gain second spot with the country working to complete 817 megawatt of capacity addition this year.
Meanwhile, UK will maintain relatively steady growth in offshore capacity. The capacity could even decline marginally from 813 MW in 2014 to 801 MW in 2015, the report says.
Ankit Mathur, the practice head for power at GlobalData, says Germany's rise to the top slot in offshore wind projects will be helped by the fact that numerous projects are scheduled to come online this year.
The report further states that order intake for offshore wind turbines last year rose at the compound annual growth rate of 367%. That is, from 288 MW in 2013 to 1,346 MW in 2014.
Also, company share-wise, Siemens remained the market leader in 2014 with an offshore order intake of 690 MW, followed by Areva with 350 MW, GlobalData report states.
Ajith Kumar S