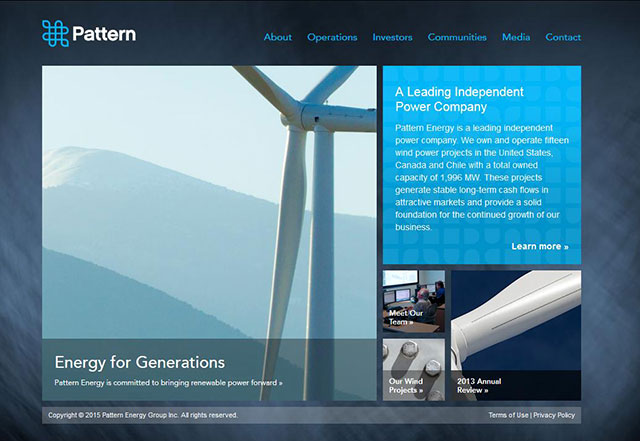 San Francisco, US, based multinational wind power firm Pattern Energy is targeting further growth and asset expansion in the coming years.
The company has stated that it has raised its growth target for cash available for distribution (CAD) per share to a compound annual growth rate (CAGR) to 12–15 percent over the next three years.
"We are increasing our CAFD per share growth target due to several key factors that give us added confidence in achieving or exceeding our growth objectives," Mike Garland, the president and CEO of Pattern Energy, said.
Further, Pattern Energy is in the process of acquiring three wind power facilities for $372 million.
According to Garland, the acquisition would mean Pattern Energy would advance its acquisition by 1,000 megawatts in identified ROFO projects.
It would also mean expansion of the company's "development pipeline, including visibility to more than 500 MW of projects that will be ready to be added to the identified ROFO list over the next 12 months".
As part of the acquisition, the company will assume $320 million in net debt besides certain tax equity non-controlling interests, the company has reported in a statement.
It will be acquiring two operational wind power facilities from Wind Capital Group (WCG).
The acquisition will cost Pattern Energy $244 million in addition to an assumed net debt of $102 million.
Pattern Energy expects to close transactions with WCG in two to three months once it receives necessary regulatory approvals and WCG meets the other waiver or customary conditions.
The third project that Pattern Energy is acquiring is the K2 Wind facility from Pattern Development. The 270-MW project is located in Ontario, Canada, and is expected to begin commercial operation in the second quarter of 2015.
Pattern Energy will be paying a purchase price of $128 million for owned interest of 90 MW in K2 Wind. The company will also assume estimated proportionate debt at term conversion of $218 million.
The acquisition would get Pattern Energy 33 percent equity interest in K2 Wind, which is equally co-owned by Samsung Renewable Energy and Capital Power.
Once it closes the acquisition of the three projects Pattern energy would have added 360 MW of owned capacity, which is an increase of 22 percent. It will grow the portfolio of Pattern Energy to 15 facilities with a total owned interest of 1,996 MW.
The addition of facilities will also expand operations of Pattern Energy into the US states of Kansas and Missouri besides consolidating its position in Ontario.
"Growing our portfolio with fully-contracted power facilities increases our cash flow, and provides us with a platform to achieve strategic and corporate finance objectives," Garland added.
In addition to K2 Wind Pattern Energy has plans to acquire another 887 MW project from Pattern Development from among the ROFO projects it has identified.
Pattern Development recently expanded its development pipeline to more than 4,500 MW, up from 3,000 MW.
Last December, Pattern Energy acquired the 200MW Logan's Gap Wind project in Texas from Pattern Development for $113 million.
The project comprising 87 Siemens 2.3 MW wind turbines, is Pattern Energy's fourth wind project in Texas and serves three different regions throughout the state.
Also, earlier this year Pattern Energy signed an agreement for the construction and operation of a 150 MW wind farm for Amazon.
Ajith Kumar S
editor@greentechlead.com