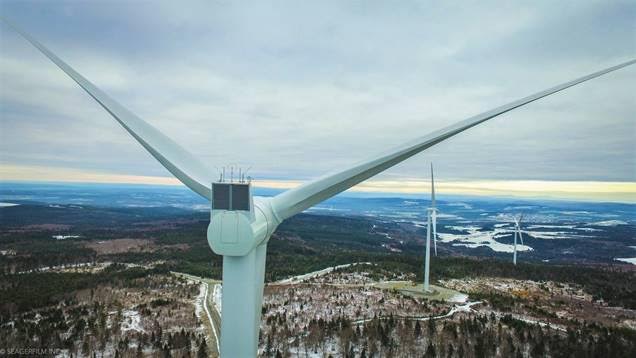 Pattern Energy Group today announced the completion of its 147 megawatt (MW) Mont Sainte-Marguerite Wind power facility.
Mont Sainte-Marguerite Wind is located approximately 50 kilometers south of Québec City, in the Chaudière-Appalaches region.
As announced in June 2017, the facility will be acquired by Pattern Energy Group and PSP Investments.
The Mont Sainte-Marguerite Wind facility is utilizing 46 Siemens Gamesa innovative 3.2 MW direct drive wind turbines with components made in Canada, including the turbine hubs and towers, which were built in Québec, leveraging the highly-skilled labor force and manufacturing facilities in the province.
By utilizing locally-sourced components and local construction workers, the project brings strong economic benefits to the region, said Mike Garland, CEO of Pattern Development.
"Going forward the facility will generate millions of dollars for our community partners, the municipalities of Sacré-Coeur-de-Jésus, Saint-Sylvestre and Saint-Séverin," Garland added.
The turbine hubs were provided by Québec-based Group FabDelta. The turbine blades were manufactured in Ontario and the towers were manufactured by Marmen at the company's facility in Matane, Québec.
The facility operates under a 25-year power purchase agreement (PPA) with Hydro-Québec Distribution.
Mont Sainte-Marguerite Wind facility is expected to generate enough power for approximately 28,000 Québec homes annually, according to power use statistics from Hydro-Québec.
editor@greentechlead.com