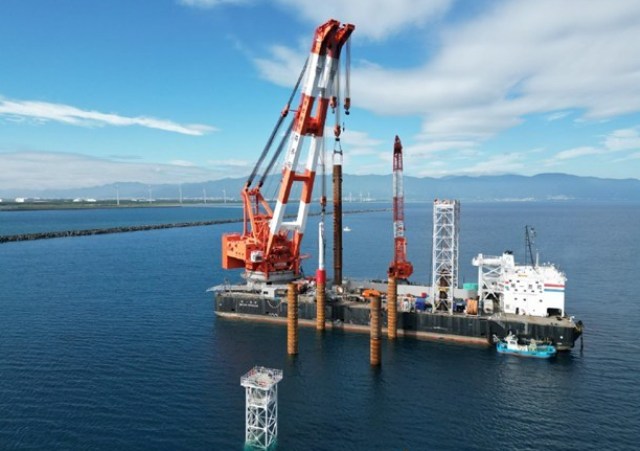 Pattern Energy and its affiliate Green Power Investment Corporation (GPI) have completed financing and begun construction of its 112 MW Ishikari Offshore Wind project.
The wind power project is located approximately three kilometers from the shore of the Ishikari Bay in Hokkaido, Japan. Ishikari Wind will feature a battery storage component with 100 MW x 180 MWh of capacity.
The financing facility was arranged by MUFG Bank, Sumitomo Mitsui Banking Corporation, Sumitomo Mitsui Trust Bank, Mizuho Bank, Development Bank of Japan, Societe Generale, and Shinsei Bank.
"This project is Japan's largest combined offshore wind and power storage facility and the first installation of an 8 MW offshore wind turbine in the country," said Mike Garland, CEO of Pattern Energy.


The Ishikari Offshore Wind project, and accompanying battery storage component, is expected to reach commercial operation in December of 2023. The project has a 20-year power purchase agreement with Hokkaido Electric Power Network for 100 percent of the power output.
Ishikari Offshore Wind will utilize 14 Siemens Gamesa 8.0 MW wind turbines, which are built specifically for offshore use. The SG 8.0-167 DD offshore turbine is designed to meet local codes and standards regarding typhoons, seismic activities, 50 Hertz operation, as well as operation in high and low ambient temperatures.
"Together with Pattern Energy and GPI, we look forward to providing the numerous economic-, social-, and environmental benefits of offshore wind power to everyone involved with the project," said Marc Becker, CEO of the Siemens Gamesa Offshore Business Unit.
Pattern Energy has eight renewable energy facilities in Japan either operating or under construction, including three onshore wind power facilities and two solar power facilities in operation, and three wind power facilities under construction.