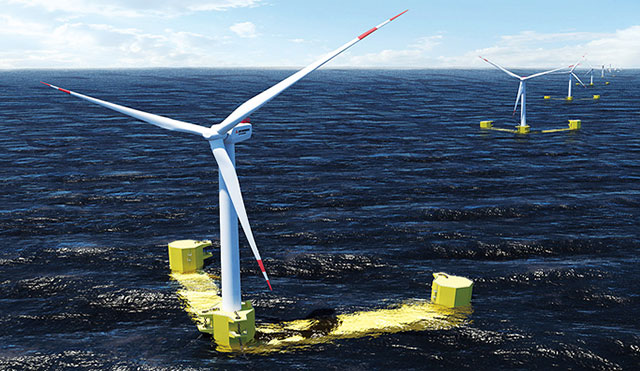 Ocean Winds and Aker Offshore Wind have unveiled joint bids to make Scotland a global leader in floating offshore wind.
Ocean Winds and Aker Offshore Wind submitted bids as part of the ScotWind process for several sites in the Outer Moray Firth, using floating devices to deliver 6,000MW of energy – which would be by far the largest wind energy development in the UK and power millions of homes.
The Floating Offshore Wind 2021 conference, hosted by RenewableUK and Scottish Renewables, will get underway in Aberdeen tomorrow (WED), where Ocean Winds (OW) and Aker Offshore Wind (AOW) will outline their bid.
Floating offshore wind is the latest advent in renewable energy technology. Around 80 per cent of the world's wind resources are in waters deeper than 60 metres and are unsuitable for fixed foundations, but floating turbines can make massive contributions to the energy grid because the infrastructure is based away from the coastline in deep water.
OW and AOW would use steel-based semi-submersible floaters called 'Windfloat', which is the world's most proven technology developed by Principle Power Inc (PPI), which is majority owned by AOW and OW.
ScotWind is the process currently being undertaken by Crown Estate Scotland, at the direction of the Scottish Government, to grant property rights for the seabed in Scottish waters for new commercial scale offshore wind projects.
In 2020, Aker established Aker Offshore Wind so its maritime experience and expertise could be fully applied to the transition to low-carbon energy.