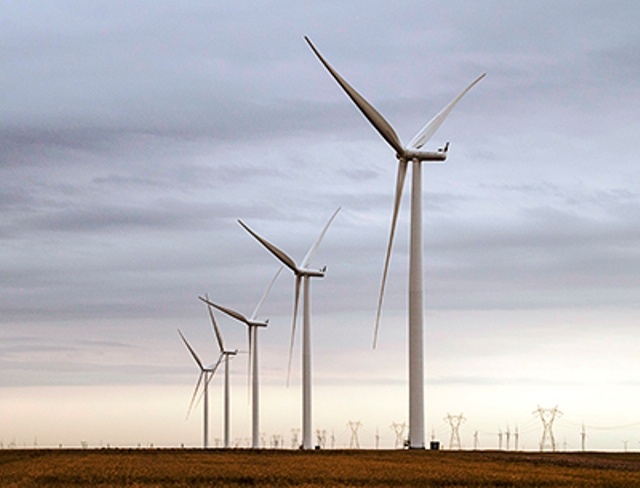 North and Latin America added nearly 22 GW of capacity of wind energy in 2020, demonstrating the resilience of the wind industry and solidifying its crucial role in the region.
In 2020, the US blew past all previous records for wind power, installing more capacity in Q4 2020 than was installed the entire year in 2019. Altogether, 17 GW of new wind power capacity was installed last year in the US, an impressive 85 percent increase. The main driver of this growth surge was the phase-out of the 100 per cent Production Tax Credit (PTC) at the end of 2020 for wind power projects that began construction in 2016.
Brazil is leading the way for wind power in the Latin America region with 2.3 GW of capacity installed in 2020. Record years in Argentina (1 GW) and Chile (684 MW) helped to drive growth in the region last year. Wind power development in Mexico – one of the region's largest wind power markets – slowed down due to political challenges.
The total wind power capacity in North and Latin America is now 136 GW and 34 GW respectively, which helps to avoid 250 million tonnes of C02 emissions annually in the region – equivalent to taking 54 million passenger cars off the road.
New Wind Power Capacity in the Americas and Caribbean in 2020
US – 16,925 MW
Brazil – 2,297 MW
Argentina – 1,014 MW
Chile – 684 MW
Mexico – 574 MW
Canada – 165 MW
Panama – 66 MW
Peru – 38 MW
Top 5 Wind Markets in the Americas and Caribbean for Cumulative Capacity
US – 122,317 MW
Brazil – 17,750 MW
Canada – 17,578 MW
Mexico – 6,789 MW
Chile – 2,829 MW
Cumulative Wind Power Capacity by Region
North America – 135,894 MW
Latin America – 33,906 MW
"Since 2010, the wind power market in the US has tripled in size and nearly quadrupled its share in the country's electricity mix. The 17 GW of wind power capacity added to the American grid last year is enough to power 5 million American homes with clean, sustainable, and reliable energy," Feng Zhao, head of Market Intelligence and Strategy at GWEC, said.
Currently, wind power supports over 120,000 jobs and has brought in over $65 billion over the past five years in the US. The US offshore wind market could generate an additional $166 billion in investment by 2022 and support 80,000 jobs annually by 2035.
The wind power market in Latin America has grown sixteen-fold over the past decade, and is the fastest growing power source in the region. However, the key challenge now is maintaining this consistent growth in the region's established wind energy markets such as Brazil, Argentina, Mexico, and Chile in order to decarbonise the region's energy system at the pace needed to achieve our Paris Agreement targets.