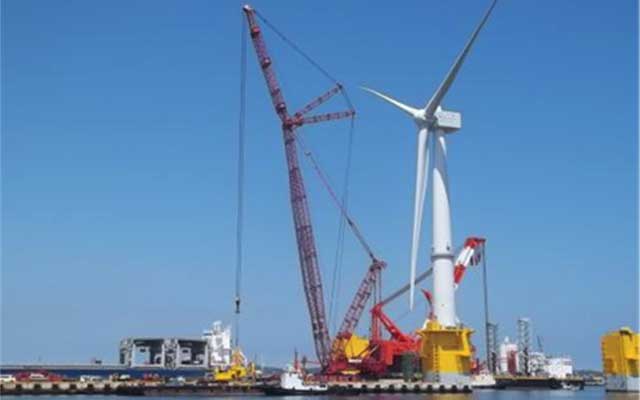 Japan has installed the largest offshore wind turbine of the world. United Press International has reported that Japanese engineers have installed the 344-foot floating turbine capable of withstanding tsunamis and waves up to 65 feet high.
The UPI report says the turbine is fastened to the seabed by four 20-ton anchors which help it withstand huge waves. Katsunobu Shimizu, a project engineer, told NBC News that the anchoring chains on the project had been deliberately slackened to withstand stormy weather.
The slack anchor chains will help the turbine avoid damage by moving in accordance with the wind conditions and dissipate energy of the waves during inclement weather.
Engineers have installed world's largest floating wind turbine off #Fukushima @NBCNews http://t.co/qevIMRNbfL #energy pic.twitter.com/CEOfZS8Vtz

— Japan Society Corp (@JS_BizPol) August 3, 2015
Previously, installation of the turbine had been delayed four times owing to typhoons.
The 7-megawatt wind turbine has been erected 12 miles off the coast of Fukushima, the prefecture in Japan which was devastated by an earthquake and tsunami in 2011.
The Fukushima Daiichi Nuclear Power Station in the area also suffered meltdown when the giant wave and temblor struck. At that time Japan depended on nuclear energy to meet roughly 30 percent of its power requirement. Following the disaster, Japan took all its nuclear reactors offline.
ALSO READ: Kyocera TCL completes work on floating mega-solar plants
Japan has been working toward increasing its share of clean energy since the tsunami in 2011. The country has taken several measures to promote development of renewable energy projects.
In recent times the country started repurposing golf courses that have gone into disuse after a real estate bubble burst to set up solar power plants.
Also, most recently Orix Corporation announced the launch of work on four 'mega solar' farms with 25 megawatts peak capacity each based in the Yamaguchi Prefecture.
The Higashimizome, Motoyama, Shiraiwa and Ajisu projects will comprise 19,152, 69,160, 15,906 and 16,720 solar panels respectively. Also, they are to go into operation next year in January, July, February and March in the previously mentioned order.
Ajith Kumar S
editor@greentechlead.com