By the end of this fiscal year, India aims to achieve a capacity addition of ​​2,300 MW in wind energy.
The reintroduction of accelerated depreciation (AD) since July 2014 and sizable investments by large independent power producers (IPPs) will be supporting the growth, according to credit rating agency ICRA.
It is expected that the annual capacity addition during the current financial year will improve to 2,200-2,300 MW, indicating growth of about 10 percent over the previous year.
During the first nine months of 2014-15, wind based capacity addition will reach 1,329 MW, a 21 percent increase compared to the same period last fiscal.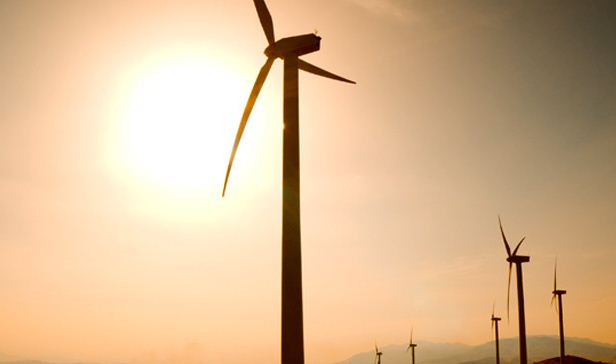 During FY 2014, wind based capacity addition was improved by 23 percent hitting 2,084 MW.
This accumulation was supported by reintroduction of generation based incentive (GBI) in September, 2013.
As of December 31, 2014, the total installed wind energy based capacity was 22,465 MW.
ALSO READ   Videocon eyes wind power market in India with Rs. 2000-crore fiberglass plant
This constituted nine percent of the overall installed capacity in the country.
The Indian government has set a goal of achieving 100 GW under its national wind energy mission, which will be launched shortly.
The mission aims to add 10 GW capacity of wind portfolio every year to achieve 70-80 GW capacity by 2022, beginning from the current 22.5 GW.
Modi government's Make in India plan has created a fresh enthusiasm among renewable energy investors in India.
LINKED  Nalco to double wind generation capacity, heads for sustainable growth
The upcoming Renewable Energy Global Investors Meet and Expo (RE-INVEST), to be held in New Delhi ha​s already attracted domestic and global investors, drawing investments of around 1.3 Lakhs.
The Indian wind energy market i​s served by some of the leading global wind energy companies.
In addition, the increased tariffs on wind energy projects for the last 2-3 years are also attracting investors.
Moreover, the ​Ministry plans to provide certainty to the generation-based incentive and plans to continue it for the next five years with a cost of Rs 15,000 crore (~$2.5 billion).
Sabeena Wahid
editor@greentechlead.com