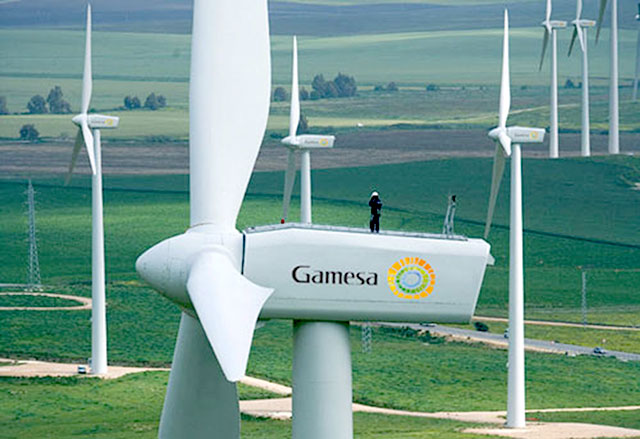 Spanish wind turbine maker Gamesa has won order to supply 125, 2-megawatt turbines to Indian power producer Orange Power.
The companies haven't disclosed the financial terms of the 250-megawatt project deal.
According to a statement, the turbines are to be installed at three Orange Power project sites in east Andhra Pradesh and north Madhya Pradesh. Two of these projects are of 100-megawatt capacity each and the third is of 50 megawatts. The projects are due for commissioning by the end of third quarter of 2016.
ALSO READ: Gamesa re-enters Indian solar power market
Gamesa has been a key wind turbine supplier to various Indian projects over the past few months.
It had in April signed supply agreements with six wind farms in India. Among the deals, the company entered turnkey arrangements with an independent power producer to build one 50 megawatt project and another 108 megawatt project.
The company also secured orders to supply turbines for addition of 36 megawatts capacity at four projects in India.
In all, the company was to supply 97 of its G97, 2 megawatt turbines to the wind farms sited in Gujarat, Madhya Pradesh, Maharashtra, Tamil Nadu and Andhra Pradesh under the agreement.
Gamesa's G97 S class turbines are suited for sites with low wind speed typical of India, the company states.
BTM consult in a recent report covering 2014 said Gamesa ended the year as the leading original equipment manufacturer in India for the second consecutive year. It held a market share of 32 percent in 2014, compared with 21 percent in 2013.
Its closest competitors in 2014 were Suzlon and Wind World India with 21 percent and 15 per cent respectively.
Gamesa arrived in the Indian market as a technology provider and wind farm developer in 2009.
The company now has more than 1,700 MW of installed capacity and provides services for 1,450 MW under operations and maintenance agreements. Besides, Gamesa has developed wind farms for more than 1,000 megawatt capacity.
In recent years, India has emerged as one of the most promising wind power markets. Its installed capacity is expected to increase from nearly 23,000 MW at present to 40,000 MW by the end of 2019. A BTM report says the expansion will be driven by pent-up demand for electricity.
Ajith Kumar S
editor@greentechlead.com