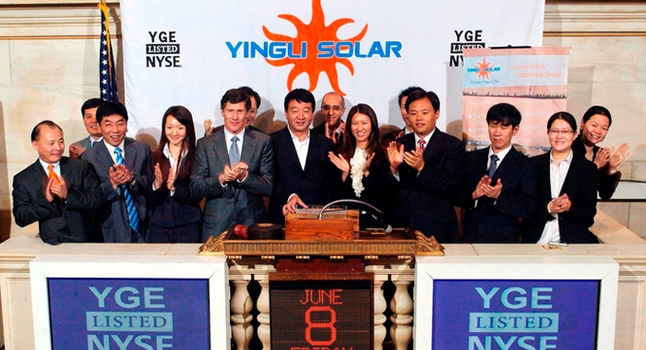 Yingli Solar has surpassed its targets of reducing greenhouse gas (GHG) emissions by the end of 2013 as part of its membership commitments in the World Wide Fund for Nature (WWF) Climate Savers program.
In May 2011, Yingli and WWF signed the Letter of Intent to join the Climate Savers program, a platform that places multinational corporations at the forefront of the low-carbon economy.
Yingli was the first Chinese company and the first PV manufacturer to join the program.
Based on its GHG emissions level in 2010, the Company set its goals for GHG reductions through 2015.
Yingli decreased its GHG emissions intensity per MW of PV module production by approximately 22 per cent in 2013, as compared to its initial target to reduce emissions intensity by 13 per cent by the end of 2015.
In addition, the company decreased GHG emissions from purchased goods and services per MW of PV modules production by approximately 12 per cent, as compared to its initial target to reduce emissions by 7 per cent.
The company decreased its GHG emissions from upstream transportation by approximately 17 per cent, as compared to its initial target to reduce emissions by 10 per cent.
Moreover, the Company has invested in PV power projects and installed solar power systems to power its PV module manufacturing facilities and other buildings.
By the end of 2013, PV projects Yingli has invested in are estimated to generate approximately 167.85 GWh of clean electricity annually.
Besides, the solar energy systems installed on its facilities will generate 39.3 GWh of electricity annually, equivalent to 4.05 percent of its total power consumption in 2013.
As part of its membership in Climate Savers initiatives, Yingli also targeted for renewable energy to account for at least 4 percent of the total energy consumption in the production of its PV modules by the end of 2015.
Yingli also joined hands with the China National Institute of Standardization to compile The Cleaner Production Evaluation Indicator System of Photovoltaic Solar Cells.
Sabeena Wahid
editor@greentechlead.com