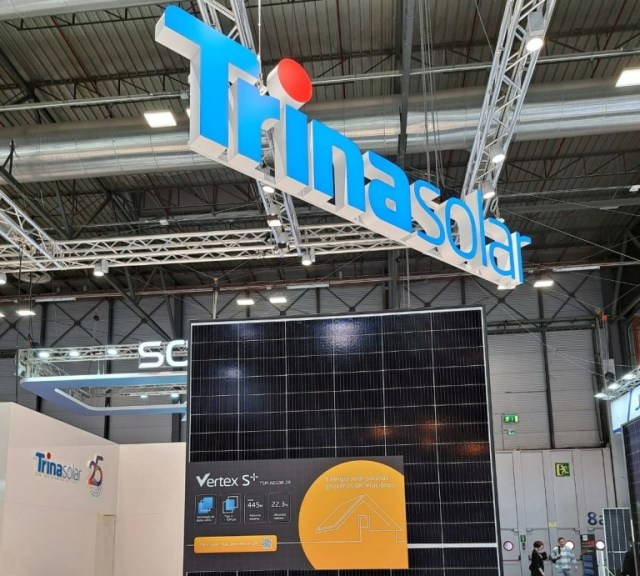 Trina Solar has launched Vertex S+ n type dual-glass rooftop modules with output power reaching 445W — at the Genera trade fair in Madrid, Spain.
Trina Solar is offering Vertex S+ in two specifications. The monofacial NEG9R.28 comes with a white rear encapsulant for maximum output power boasting up to 445Wp and efficiency reaching 22.3 percent. In contrast, the transparent NEG9RC.27 is the preferred option for high-end aesthetic applications, for example on residential rooftops where the array would all but disappear optically.
This bifacial module features a front side power of 435Wp, at 21.8 percent efficiency. Both types feature a surface area of just under 2 square meters (1'762*1'134*30mm) and a black aluminum frame.
Vertex S+ is based on the 210mm Vertex technology platform. Thanks to the shift to n type i-TOPCon cells, the module can generate approximately 10 percent extra energy over 30 years, compared to its p type peers.
n type cells have a 50 percent lower initial degradation and an 11 percent lower annual power attenuation. Both factors combined – higher power and lower degradation – result in a substantially boosted energy yield over the module's lifetime, and improved reliability.
Trina Solar has ramped up its brand new, vertically integrated n type factory securing supply of n-type i-TOPCon cells for modules of all sizes.
Vertex S+ is the first rooftop module on the market to feature a robust dual-glass structure, replacing the plastic backsheet with a second layer of glass. Dual-glass designs are highly reliable and a perfect protection over decades, making this module structure extremely resistant to salt spray, acids, and alkalis.
Trina Solar was able to use two layers of ultra-thin glass with just 1.6mm thickness, leading to a low weight of 21.1kg, which is comparable to backsheet modules. This means that installers can handle the new Vertex S+ on the roof just as they have always handled conventional PV modules.
Vertex S+ is compatible with other BOS components. It offers a variety of mounting methods including short side and long side clamping, crossed beam, shared rail and slide-in mounting. Thanks to its short circuit current of 10.7A, it is also compatible with more than 99 percent of mainstream inverters in the market, as verified by a comprehensive compatibility analysis.
Vertex S+ will provide 30-year performance warranty. Mechanical integrity is guaranteed for 25 years, rather than the 15-year industry standard.