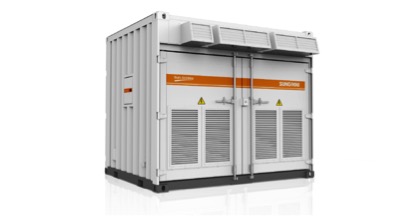 Sungrow, a manufacturer of PV inverters, has launched its new inverters in India.
The new SG2500 (2.5MW container solution) and two string inverters, the 1100V-SG60KTL (60KW) and the SG80KTL (80KW with big DC clamp) were showcased at the Renewable Energy India Expo (REI Expo).
Sungrow's central inverter SG2500 features 10-foot standardized shipping container design, enabling the SG2500 to be easily deployed, saving installation time and cost, Sungrow said. With the three-level topology design, maximum efficiency can reach up to 99 percent, being the highest in class.
The SG60KTL inverter (1100V) is a 60KW string inverter capable of overloading at 1.1Pn for a longer time with its maximum DC input arriving at 1100V. Maximum DC/AC ratio reaches up to 1.4, which is again the best in class. The product is designed for high power yields with its maximum efficiency reaching up to 99 percent.
The string inverter SG80KTL (with big DC clamp) integrates functions including string monitoring and DC fuses as well as DC/AC surge protection within its intelligent design. SG80KTL is also designed for higher power yield with its maximum efficiency of up to 99 percent.
"Sungrow always focuses on technical innovation with an intention to offer better products and services to customers. We believe that these three new products can meet the demands of solar industry in India and exceed customer expectations," said Renxian Cao, president of Sungrow.
editor@greentechlead.com