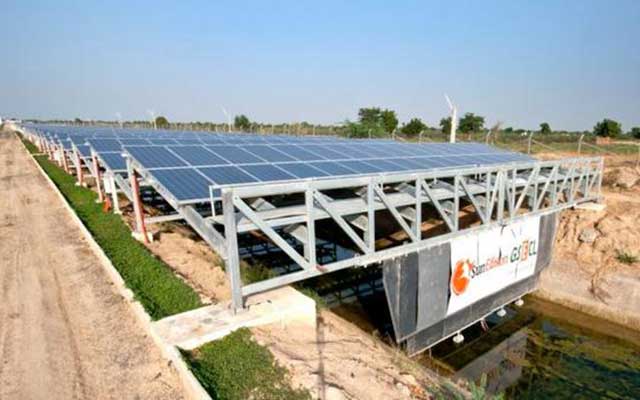 SunEdison has announced the completion of a 1-megawatt, direct current canal top solar power plant in Karnataka.
The project has been developed for Krishna Bhagya Jala Nigam (KBJNL), the agency of Karnataka government responsible for the Krishna river and dam.
SunEdison had pioneered canal top projects in India with the Narmada Canal in Gujarat in 2012. Such installations are preferred for the dual advantage of clean energy generation combined with water savings compared with conventional energy production.
The projects not only help save water by shielding sheets of water beneath them in canals from the direct sunlight but also reduce water use during conventional power generation.
Canal top systems also free up land for other purposes. Owing to cooler temperatures above canals, these systems are also able to generate electricity better than conventional ground mounted panels.
SunEdison has been an active presence in the Indian renewable energy market in recent times. Recently, the company acquired Singapore-based Continuum Wind Energy for an undisclosed sum.
Continuum operates wind power plants in Maharashtra and Gujarat with total installed capacity of 242 MW. It has another 170-MW project under construction in Madhya Pradesh, and more than 1,000 MW in development stages in six states across the country.
SunEdison has stated that it intends to place the power plants it has acquired from Continuum on the operational call rights list for TerraForm Global, an indirect subsidiary of SunEdison headquartered in the US.
Last September, SunEdison and TerraForm Power announced the interconnection of 50 MW of solar projects in Britain.
Ajith Kumar S
editor@greentechlead.com